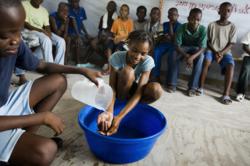 Working together, we decided that Haiti would be a good recipient country for this first shipment because of the cholera epidemic and the hygiene education provided by Salesian schools there.
Port-Au-Prince, Haiti (PRWEB) July 27, 2012
Thanks to a new partnership with Salesian Missions, Global Soap Project recently distributed its largest donation of soap to date, reaching approximately 5,000 people in Haiti.
"The Salesians are on the ground in Haiti working with children in need, so we were able to provide a pathway to bring the soap from the donors directly to the beneficiaries," says Jessica O'Connor, property and logistics officer at the Salesian Missions Office for International Programs. "Working together, we decided that Haiti would be a good recipient country for this first shipment because of the cholera epidemic and the hygiene education provided by Salesian schools there."
As a result of this partnership, more than 750 boxes of soap were sent to Salesian-run centers in Haiti, which will be used for personal hygiene and laundry. Like in so many places around the globe, the Salesians are a vital part of the infrastructure in Haiti, which allows for organizations like Global Soap Project to reach people in need efficiently even if they do not have a presence in a given country.
"We're very excited about our partnership with Salesian Missions," says Sam Stevens, executive director of Global Soap Project. "Our goal is to get soap and hygiene education to vulnerable children and disaster victims who don't have access to it, and this partnership is a perfect example of making that happen."
Salesian Missions, headquartered in New Rochelle, NY, coordinated the overseas shipment and in-country distribution. Global Soap Project was able to cover the cost of the shipment, which was extremely generous and helpful, according to O'Connor.
"Working with Global Soap Project was a win-win benefiting those in need," says O'Connor. "Salesian Missions looks forward to partnering more in the future."
The World Health Organization estimates that close to two million people, mostly children under the age of five, die each year from hygiene and sanitation related illnesses. Most are from populations in developing countries who live in extreme poverty. Having access to clean water and soap is one of the best preventive measures.
"We know that soap can reduce childhood morbidity from diarrhea and pneumonia by up to 47 percent," adds Stephens. "We're grateful for the work of the team at Salesian Missions, we're proud to partner with them on this project and look forward to partnering with them even more in the months and years to come."
The donated soap is providing life-saving hygiene to 11 different Salesian-run sites. Elementary schools in Pétion Ville, Cap Haiten and Fonds Parisien and students in elementary, technical, agricultural, administration and nursing schools in Fort Liberté were recipients as well as many other Salesian-run sites.
ABOUT SALESIAN MISSIONS WORK IN HAITI
Salesian Missions is the U.S. development arm of the Salesians of Don Bosco, which has been serving Haiti for the last 75 years. Salesian Missions and was instrumental in emergency response and relief efforts in the aftermath of the devastating earthquake that struck Haiti on Jan. 12, 2010. They were among the first responders—providing shelter and medical aid; means to securely transport, store and distribute relief supplies and clean drinking water; and, perhaps most importantly, an understanding of how to get things done in Haiti. Their rebuilding as well as education and training work continues in Haiti.
The Salesians run elementary schools, secondary schools, vocational training institutes and colleges across Haiti. In addition, the Salesians provide shelter for homeless youth and programs for street children. Haiti is one of more than 130 countries around the globe where Salesians operate such programs. To donate in support of this work, go SalesianMissions.org and select "Haiti Recovery Fund" on the Donate Now page.
ABOUT GLOBAL SOAP PROJECT
Global Soap Project works to prevent hygiene related deaths and improve global health by recycling used hotel soap and turning it into new bars that are distributed to vulnerable populations around the world. The Global Soap Project partners with existing organizations to ensure the soap is distributed to those in need, and to ensure that proper hygiene education is provided in addition to the soap.
Global Soap Project has a unique partnership with hoteliers. According to the organization, with 4.6 million hotel/motel rooms in the United States, an estimated 2.6 million soap bars are discarded every day. By participating in the project, hoteliers are diverting tons of waste from landfills and bolstering environmental sustainability programs. Hotel managers, housekeepers and guests become more environmentally conscious and more sensitive to the needs of vulnerable populations through this initiative.
Soap is collected from hotels and shipped to the Global Soap Project's warehouse in Georgia. From there, it is sorted into containers by soap type. The soap is ground up, remixed, and then filtered through an extremely fine-mesh screen to remove dirt and other particulates. It is then processed into finished bars, cut into 4oz bars, cured, inspected and packaged. Third-party laboratory tests screen for traces of pathogens on a sample from each batch of soap produced before it ships. As of mid-2012, soap has been distributed to partners in 23 countries, with roughly one-third of total production to-date going to Haiti.
Working with distribution and NGO partners like Salesian Missions, the soap is distributed and education on the best health and sanitation practices is provided to recipients. In addition to their rebuilding and educational initiatives, Salesian Missions continues to build partnerships and find ways to provide hope and health for families in Haiti.
###
For more information:
SalesianMissions.org
ProgressInHaiti.org
GlobalSoap.org