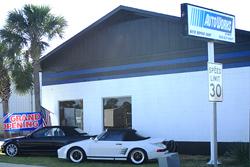 Proper Maintenance will save you $1000's in costly expenses
Destin, FL (PRWEB) July 27, 2012
The technicians of AutoWorks of Destin regularly repair, maintain and service countless European vehicles, Asian imports and domestic models across the region. As the Florida sun beats down on cars, trucks, and SUV's, they anticipate a hoard of heat-related system failures that drivers can prevent if they adhere to a regular maintenance schedule. The team asserts that, with a yearly 27-point inspection and regular maintenance protocols, customers can save thousands of dollars in repair bills that never come to fruition.
AutoWorks of Destin first calls drivers' attention to the simple yet easily overlooked measure of regular oil changes. The shop stresses that oil change intervals indicate the time when oil begins to fail, not after it already has. As the engine cycles, oil lubricates moving parts and expels excess heat off of the engine block. The oil is subject to drastic temperature fluxes and cold starts, which incites chemical changes that lower viscosity needed to keep parts moving smoothly. AutoWorks of Destin offers three service levels of oil changes, all of which come with the shop's 27-point inspection.
Drivers should also stay wary of foreign sounds and puddles underneath a car that could indicate any number of costly problems. Autoworks of Destin highly suggests sticking to the vehicle's factory maintenance schedule to ensure reliability and maintain resale value. Since the shop's technicians understand that these recommendations are based on ideal driving conditions, they tailor service to allow for individual driving habits and environments.
The luxury of stopping power is also one largely taken for granted until drivers wear down brake pads to dangerous levels. Squealing, grinding, or brake pedals that depress to the floor need to be serviced immediately. Regular brake checks prevent system failures that take lives more than they drain paychecks.
About the company:
AutoWorks of Destin has been servicing the area since 2000 and they are proud of the continuous dedication to the principles of excellent service. AutoWorks of Destin is based on four simple standards: Honesty, Integrity, Accommodation, and Excellence. They are committed to bring new possibilities that make automotive-repair experience an even more rewarding and enjoyable-one. AutoWorks of Destin are here to help every step of the way with unbiased information, trustworthy advice, and friendly customer service. For more information visit their website at http://www.autoworksofdestin.com.
AutoWorks of Destin
221 Main St. Destin, Fl 32541
(850)543-8203