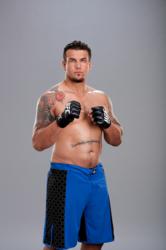 Sturgis, South Dakota (PRWEB) July 27, 2012
The Sturgis Buffalo Chip® home to official Harley Owners Group® (H.O.G®) event on Wednesday August 8, 2012 is pleased to announce the addition of two time UFC Heavyweight Champion Frank Mir to the annual H.O.G.® Buffalo Chip Experience. Frank Mir will join other dignitaries onsite at the Buffalo Chip® and participate in the exclusive Harley-Davidson owners only reception and celebration. Join Frank Mir and Harley-Davidson owners from around the world as they come together at the Chip during the Sturgis Motorcycle Rally for a one-night only celebration. H.O.G.® members can reserve their special event pass now at http://www.members.hog.com.
Frank Mir is one of the most accomplished and feared Heavyweight fighters in the UCF. Mir is a two time Heavyweight Champion and currently holds the record for most victories in the Heavyweight division of the UFC with 14, as well as the most wins by submission in UFC history with 8. Frank Mir brings his knock out personality to the annual H.O.G.® Buffalo Chip Experience on August 8, 2012. This annual, limited availability celebration for H.O,G members includes exclusive free parking, party with Frank Mir and other distinguished guests, complimentary food, a viewing of Motorcycles as Art Exhibition and a headline concert from country crossover superstar Eric Church. Members also receive access to Zip Line rides, the Tattoo Cafe, motorcycle stunt shows, real machine gun shooting, a cool dip at Bikini Beach and tent camping. (The Zip Line and the machine gun shoot are ticketed activities.)
"Harley-Davidson knows how to treat their H.O.G. members to great event," says Buffalo Chip owner Rod Woodruff. "Now with UFC Champion Frank Mir at the party you know it is going to be an even bigger blast. We could not be more excited to be partnering with Harley-Davidson once again for their annul H.O.G members celebration. The Chip is yours Harley, and we know you will good time."
The Legendary Sturgis Buffalo Chip has been offering campers and rally goers the Authentic Sturgis Experience™ for more than 30 years with world-class entertainment during their annual Sturgis Concert Series and a premium 580 acre camping resort. Make your reservations now for this special HOG event, and catch one of the hottest names in country music at The Best Party Anywhere™ by clicking on http://www.members.hog.com. If you would like to book other nights at The Buffalo Chip go to http://www.buffalochip.com or call 605-347-9000.
About The Sturgis Buffalo Chip-
Sturgis Buffalo Chip 2012 will take place August 3 – August 11. In 2012, The Largest Music Festival in Motorcycling™ and the Sturgis rally's cornerstone event will celebrate its 31st consecutive annual concert series. Since 1982, the Sturgis Buffalo Chip has provided unforgettable live music experiences for fans from around the world. The Sturgis Buffalo Chip attracts the music industry's hottest stars, emerging talent and local favorites, and hosts a diverse selection of food and beverage vendors and interactive exhibits. Set on 580 acres, three miles outside of Sturgis, the Buffalo Chip is a festival experience like no other. More details are available at BuffaloChip.com.