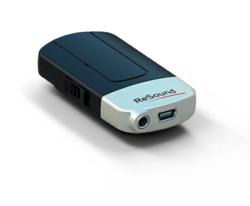 San Francisco, CA (PRWEB) July 27, 2012
True Sound Hearing Aid Center, a full service hearing aid and hearing evaluation provider in the San Francisco area, recently announced that they now carry the new mini microphone from ReSound. The ReSound Unite Mini Microphone is a hidden clip-on microphone that transmits sound directly to a client's hearing aid.
The ReSound Unite Mini Microphone is specifically designed to stream the voice of another person directly to the user's hearing aid device. It is ideal for environments where there is a large volume of background noise, such as in a restaurant or store. Users simply clip the microphone under a lapel or place it directly on the table to enhance their ability to understand those nearest them.
In a recent interview with Audiology Online, Kevin Mensink, the Vice President of Marketing at ReSound described the new mini microphone as a great addition to their line of 2.4 GHz Unite accessories. He said that one of the greatest benefits of the new technology used in the Unite Mini Microphone is that it does not require a separate transmitting device. Sound goes directly from the mini microphone to the hearing aid.
"We are thrilled to add this versatile accessory to the hearing device offerings in our store," said Robert Gilligan, owner of the True Sound Hearing Aid Center. "ReSound's new remote mini microphone is the perfect solution for people who want to hear better when there is a lot of noise around."
True Sound Hearing Aid Center is now offering a special introductory price of 25 percent off of the normal MRRP on the new mini microphone from ReSound. To try the new mini microphone or for further information about all of the products and services that True Sound Hearing Aid Center offers, visit their San Francisco or Daly City stores or call (888) 228-1378.
About the company:
True Sound Hearing Aid Center in San Francisco offers hearing test and solutions that best meet individual personal hearing needs. The founder and president of True Sound, Robert Gilligan has more than fifteen years in the hearing aid industry; and the professional staff at True Sound spends time understanding their customers' individual needs and finding a personalized solution. San Francisco's True Sound Hearing Aid Center services include evaluations, ear molds, hearing checks, hearing aids, all make repairs, troubleshooting, batteries and hearing aid accessories. For more information visit their website at http://www.truesoundhac.com.