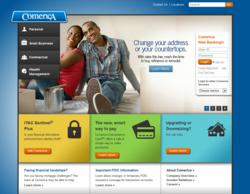 The revamped site offers a better user experience and improved site visibility with an enterprise-level content management system.
Austin, TX (PRWEB) July 31, 2012
Comerica Bank has transformed its digital presence with the recent launch of the redesigned Comerica.com. The site delivers a simpler, speedier and more efficient user experience for consumers and businesses with a clean and easy-to-navigate layout that maintains Comerica brand values in a contemporary look and feel.
The site was designed and developed in collaboration with nFusion, an Austin-based full-service digital-centric marketing agency, which brought its experienced team to help ensure the revamped site benefitted not only from a better user experience but from improvements in search engine site visibility and reporting capabilities.
"The digital transformation of the Comerica site offers users a dynamic platform to explore all the bank has to offer," says nFusion CEO John Ellett. "The team's collaborative efforts with Comerica in implementing an enterprise-level content management system have benefitted consumers who come to the site seeking a wide array of banking and wealth management services."
About Comerica Bank
Comerica Bank is the commercial banking subsidiary of Comerica Incorporated, a financial services company headquartered in Dallas, Texas, and strategically aligned by three business segments: The Business Bank, The Retail Bank, and Wealth Management. Comerica focuses on relationships and helping people and businesses be successful. In addition to Texas, Comerica Bank locations can be found in Arizona, California, Florida and Michigan, with select businesses operating in several other states, as well as in Canada and Mexico. To find Comerica on Facebook, please visit http://www.facebook.com/ComericaCares. Follow Comerica Chief Economist Robert Dye on Twitter at @Comerica_Econ.
About nFusion
nFusion is an integrated digital-centric marketing agency headquartered in Austin, TX that partners with marketing change agents to revitalize brands, transform their digital presence and accelerate sales. The full service agency partners with a wide range of B2B and B2C clients across all verticals. nFusion's work balances traditional media with the latest digital capabilities, always geared to generate results. Clients include AMD, Anheuser-Busch/InBev, BJ's Restaurants, CiCi's Pizza, Comerica Bank, Samsung, Sonus Networks and Zimmer Spine. nFusion can be found online at http://www.nfusion.com. Find us on Facebook at facebook.com/nfusion; tweet us at twitter.com/nfusion.