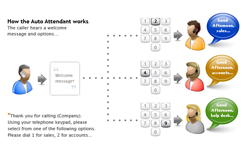 (PRWEB UK) 29 July 2012
Telecoms World, the UK's leading supplier of non-geographic 08 and 03 numbers, has a telephony solution that allows faster and more efficient handling of inbound business calls. The Auto Attendant service uses Interactive Voice Response (IVR) technology and can prove to be a huge asset to companies that handle high volumes of calls. The service allows callers to control how their calls are routed and handled by using their keypads, and eliminates the risk of losing business calls as a result of long wait times.
Auto Attendant can be tailored to the needs of any business so that a branded welcome message is played as the call is answered. Department options are set up according to call routing destination requirements. For example, calls can be routed through directly to customer services, sales, accounts or any other department or destination. Using an IVR system is a great way for companies to show customers that they appreciate their call and their custom and keep calls moving efficiently through call queues.
Auto Attendant offers a long list of benefits to companies taking orders or enquiries from customers and ensures that no call is left unanswered. Here are just some of the main benefits provided by Auto Attendant:

Ensures calls are answered automatically and routed to the right destination
Projects an impressive business image and keeps customers happy
Increases customer service efficiency
Eliminates the possibility of missing calls
No costly equipment or training required
Solution can be tailored to your business (greeting message, routing options etc.)
Web-based statistical tool available when used in conjunction with 08 and 03 numbers from Telecoms World
As a result of these business benefits, more and more companies are implementing IVR systems in a bid to save personnel costs and to project a better company image. Rather than staff sitting in a call centre waiting for calls to come through they can be better deployed around the business and have calls routed to them according to their departmental specialty.
When used in conjunction with a non-geographic 08 or 03 number, Auto Attendant provides a very attractive solution for the business and the calling customer. Not only are customers given the convenience of a 08 or 03 number to call, but the system will ensure their call is answered in a timely and professional manner. One of the most common consumer complaints is how calls are handled. Using a non-geographic number and an IVR solution also lets small and medium sized businesses give customers the impression that they are a much larger organisation.
Telecoms World has been offering non-geographic 08 and 03 numbers to the UK since 2002 and currently supplies 15,000 businesses across the country with a range of professional and highly effective business telephony solutions. 08 or 03 numbers can be routed through to your main business number and even through to mobile phones making them the perfect call handling solution for any business from large corporations through to sole trader operations.
ENDS
For more information, please contact
Notes to editors:
Founded in 2002, Telecoms World PLC is an independent telecommunications company based in Orpington, Kent. As the UK's leading supplier of non-geographic 08 and 03 numbers, they provide over 15,000 businesses across the UK with business telephony call solutions controlled over the web.