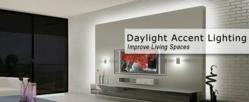 Resellers and installers love our products. Not only that, it really creates a margin opportunity not found in any other standard lighting system. We believe that the only way to create value is to offer the whole solution, based in service!
Seattle, WA (PRWEB) July 28, 2012
In today's world, technology evolves so fast that many companies do not have a chance to keep up with all the new advances emerging at a rapid rate. Solid Apollo, leader in LED Lighting Technology, takes this burden away from the resellers, architects and contractors by offering top notch pre-sale and post-sale technical advice, wiring diagrams, configurations, product designs and implementation. Solid Apollo LED also offers great product selection and advanced control systems that enable everybody to create cutting edge LED installations.
Solid Apollo Company offers the biggest selection of LED products to all General Lighting resellers and installers including all the control systems needed to make any installation truly unique. Solid Apollo LED has the capability to custom design any lighting solution as well as manufacture custom products at its factory. This solution gives an added advantage by offering products not currently available on the market, customized to fit a specific installation. Not only is the quality of product unsurpassed in the industry but every product that Solid Apollo LED sells is backed by an unconditional three year warranty.
"Resellers and installers love our products. Not only that, it really creates a margin opportunity not found in any other standard lighting system. We believe that the only way to create value is to offer the whole solution, based in service, knowledge and cutting edge products" mentioned President Manuel Barquin
Solid Apollo LED offers personalized discounts for all resellers and distributors. In order to qualify, simply present a reseller form at the time of purchase and become eligible to receive discounts on all orders.
Every order received by Solid Apollo LED, no matter how big or small, will receive a full complement of services, from advice with correct product selection, to complete technical and configuration walk-through, all the way to trouble-shooting any problems that may arise. Solid Apollo LED is there to supply a vast knowledge of LED configuration and installation know-how. Solid Apollo's electrical geniuses are on hand and fully available to answer questions and offer technical support until the job is done and the end user is fully satisfied.
Solid Apollo LED has a vast product line. Examples of this great product line are the following:
LED Light Strips provide a linear lighting solution for any reseller/contractor interested in installing under cabinet lighting, cove lighting or accent lighting in the home or business.
For example: If a business owner wishes to add accent lighting anywhere in the installation, the best way to achieve this is through the use of LED Strip Lights. Necessary for installation: LED Light strips, a power transformer to go from 120V AC to 24VDC and an optional way to control or dim the lights. That can be an In-Line Dimmer Switch or an pre-existing dimming system but either way, Solid Apollo will make sure that he installer has all required products before the purchase is finished ensuring that all the necessary components are there to complete the installation smoothly and efficiently.
Another Example Could be: A contractor provides a high end Color Changing LED Lights system to a business. How will the end user control the lights? The only way to do it is through the use of RGB Color Control Systems produced by Solid Apollo. RGB control systems allow for control of brightness, colors, saturation levels and even the possibility to execute elegant color changing effects.
Solid Apollo's product range that achieves color variation systems are color changing LED Strip Lights allows for full color changing functionality with brightness control and the ability to add up to ten, separate and independent zones. The 10 zone controller is fully compatible with any RGB LED Lighting system.
The other LED Color Control Systems available from Solid Apollo include: ChromaFlow Wireless RGB Controller, which offers custom color control, brightness and control over the speed of the ten pre-programmed events as well as control over seven solid colors, iChroma Manual RGB Controller with 20 pre-programmed lighting events and includes seven solid colors and the ability to pause the remote on a specific color, offering "customization" down to individual color choice. The next remote is a Three Knob Manual Dimmer. It is a simple and effective way to make customizable colors and control the brightness over the three colors, Red Green and Blue. The 3 Channel Bare-Bone Dimmer] is the simplest and least expensive way to control the three different RGB Channels.
Solid Apollo DMX LED lighting Control systems offer far more options than an RGB controller can offer on its own. DMX Controls offer many features like the ability to control brightness levels, patterns, colors; execute exact programs at specific times during the day, week, month and year!
It is possible to light an entire building and have the color patterns change with the seasons: During Christmas the lighting can be RED and GREEN, in February it needs to be PINK and PURPLE for Valentine's Day and then turn GREEN for ST. Paddy's Day. The only way to achieve this is through the use of DMX!
Solid Apollo has a series of DMX enabled software devices to supply any need on the market: DMX Stand Alone 512 can operate independently of a computer while the needs a computer tether to communicate with the RGB lights. Solid Apollo LED also carries all the necessary connections for complete wiring and execution of a DMX installation.
Need to raise and lower the amount of light that an LED Lighting Product is emitting? Solid Apollo LED carries a full range of LED Dimmers: 5-zone Remote and Receiver and iTouch Dimmer] Switch cover all the needs of a customer that wants to lower or increase the amount of light given off by a certain LED Light.
The hottest LED product on the market currently, is an AC LED Strip that runs off of 120V wall plug. Solid Apollo's 120V AC Driverless strip is very high quality SMD5050 LED strip encased in top-of-the-line silicone extrusion. It is waterproof and weatherproof and gives the user the ability to illuminate 165ft of continuous LED Strip Light with just one plug-in. Akin to the AC Strip are LED Wall Washers. Outdoor rated and plug-in ready, LED Wall Washers can provide a solution to any customer that needs large scale, directional light, enough light to bathe an entire building in smooth and seamlessly blended LED light. LED Wall Washers are available in seven solid colors as well as color changing RGB.
About Solid Apollo.com: Solid Apollo is a cutting edge LED lighting company which designs produces and distributes a wide range of High Quality LED Lighting Products and lighting solutions to meet today's ongoing, new generation, lighting demands. For more information visit: Solid Apollo at http://www.solidapollo.com or call 425-582-7533.