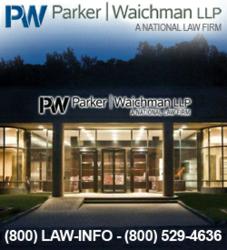 This week, a California jury awarded $5.5 million dollars to a couple who filed a lawsuit alleging C.R. Bard's Avaulta Plus transvaginal mesh caused serious damage.
New York, NY (PRWEB) July 27, 2012
Parker Waichman LLP, a national law firm dedicated to protecting the rights of victims injured by defective medical devices, has filed a lawsuit on behalf of a woman who attributes her injuries to several transvaginal mesh implants. The suit was filed on July 12th in the U.S. District Court for the Southern District of West Virginia, Charleston Division (Case No. 2:12-cv-03157). The case is pending alongside many others in the multidistrict litigation as part of the In Re: American Medical Systems, Inc. Pelvic Repair System Products Liability Litigation (MDL No. 2325). American Medical Systems, Inc. and Boston Scientific Corporation have been named as Defendants.
According to the Complaint, the Plaintiff was implanted with the Elevate Prolapse Repair System, Perigee Prolapse Repair System and Lynx Suprapubic Mid-Urethral Sling System in April 2009. These transvaginal mesh products were intended to treat her stress urinary incontinence and pelvic organ prolapse, the two conditions for which they are approved. However, the suit alleges that the meshes caused harm to the Plaintiff, leading to significant mental and physical pain and suffering, permanent injury, permanent and substantial physical deformity and loss of bodily organ system.
Although the transvaginal mesh products implanted in the Plaintiff are manufactured by different companies, the lawsuit alleges that they all have the same defect- mainly, that the mesh is not inert and reacts with the tissues in the body. This, the suit states, creates an unreasonable risk of vaginal erosion, infection, extrustion, perforation, chronic pain and/or abscess. The common defective link between these products, according to lawsuit, is that they were all approved through the 510(k) route. This means that the products were not subject to any type of clinical testing for safety or efficacy before they were marketed because they were deemed "substantially equivalent" to older devices.
After receiving 2,874 reports of complications associated with transvaginal mesh products, the U.S. Food and Drug Administration (FDA) warned last July that the devices may not be more effective than non-mesh methods used to treat pelvic organ prolapse while carrying additional risks. The agency has asked 33 manufacturers, including American Medical Systems and Boston Scientific, to conduct post-market studies of transvaginal implants in order to understand their impact on organ damage and other relevant health concerns.
This week, a California jury awarded $5.5 million dollars to a couple who filed a lawsuit alleging C.R. Bard's Avaulta Plus transvaginal mesh caused serious damage. The case was the first of many to go to trial.
Parker Waichman LLP continues to offer free lawsuit consultations to victims of transvaginal mesh injuries. If you or a loved one experienced complications following POP and SUI surgery with transvaginal mesh, please visit the firm's transvaginal mesh injury page. Free case evaluations are also available by calling 1 800 LAW INFO (1-800-529-4636).
Contact: Parker Waichman LLP
Gary Falkowitz, Managing Attorney
(800) LAW-INFO
(800) 529-4636
http://www.yourlawyer.com