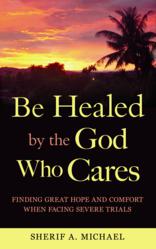 Miraculous Healings Prove the Existence of a Supernatural Caring Intelligence
San Luis Obispo, CA (PRWEB) July 28, 2012
According to Sherif Michael, author of the recently released book Be Healed By The God Who Cares, God heals human beings from disease. These days, he says, people are distracted by movies, computer games, the scramble for wealth, sports, anything to keep them from turning to God.
He says, "Only when a person's props are knocked down, such as when one faces serious illness and stares death in the face, does that person realize how transitory life is. When confronted with serious illness, a desperate person may choose to turn to the Source of Life, the one true God, and that's when miracles happen."
God, as evidenced in Be Healed By The God Who Cares maintains Michael, "is alive and well and heals today. God defines and sustains physical reality. Through a miraculous healing He redefines reality." To prove God's existence, Michael asks, "Can there be a computer program without a programmer, a painting without a painter, or a house without an architect. Information is not the product of 'spontaneous generation,' but needs a source, an intelligent mind. Remarkably Christ fulfilled three hundred Old Testament prophecies made hundreds of years before, attesting to the existence of a Supreme Intelligence outside space and time inspiring the prophets."
He summarizes his user friendly, short book as follows: "The purpose of this book is to give hope to all those suffering from spiritual and/or physical illness. The Book of Mark relates that when the disciples preached the Word of God, signs and wonders, including healing, accompanied their preaching. This booklet looks at what the Word teaches regarding healing."
Quoting Be Healed By The God Who Cares, "Love, truth, justice, beauty, goodness, virtue, righteousness, holiness, wisdom, life originate with God. They are Ideas in the mind of God and comprise His essence. Just like facets in a diamond they are aspects of God's personality.
"Jesus maintained He was the Truth and as such God incarnate .... 'I am the Way and the Truth and the Life.' He said He was Life itself. He urged those who came to hear him to have faith and believe.
"By faith all things are possible. The power rests not in the amount of faith a person has, but in the object of our faith, a Person, the Second Person of the Triune Godhead. It is the power in Christ, which throws mountains into the sea, heals leprosy, heart disease, diabetes, AIDS, and cancer. Faith is a gift from a loving God, available to everyone through grace and there is nothing one can do to earn it.
"To help unbelievers and skeptics believe in the claims of Jesus Christ and have faith, Be Healed By The God Who Cares analytically looks at the prophecies made hundreds of years before which Christ fulfilled; Jesus's miraculous Biblical healings, the claims made by Christ regarding His deity; the proofs for Christ's bodily resurrection; present day healings as a way God demonstrates His love for us."
"If you are seeking a book that will give ample amounts of inspiration and hope combined with a dash of apologetics, Be Healed by the God Who Cares does just that, and more. Biblical wisdom is presented alongside classic philosophers and modern thinkers in a clear readable guide to finding spiritual solace and miraculous intervention." – James Hirsen, J.D, New York Times Best Selling Author.
Sherif A. Michael lives in California. He holds a BA in political science and an MBA in international finance from UCLA. He also holds a Juris Doctor in Law from Western State University. Sherif has lectured in Christian apologetics and comparative religion at university campuses in nearly thirty countries for such organizations as Student Life, Campus Crusade, Agape France, and an array of main line and nondenominational Christian churches. After six years in the New Age in mantra and hatha yoga, Sherif committed his life to Christ and aside from lecturing, has been involved in banking, commercial brokerage, and real estate development. He is married to a Canadian-American wife with two young adult boys. Sherif authored the popular website http://www.earthharvest.org, which is translated in 12 languages, a website which has over 100,000 hits a month along with its sister website http://www.existedios.com
Paperback: 77 pages Publisher: Mill City Press Inc. ISBN 978-1-936780-40-2 Paperback list price: $9.80 E-book list price: $3.95
Book and e-books available from Amazon, Barnes & Noble, Apple Store and others.
###