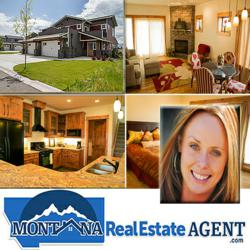 Bozeman Condos for Sale in Best Buyers Market with Average Price Per Sqft. at $109
Bozeman, Montana (PRWEB) July 27, 2012
Bozeman condos for sale are becoming a prized purchase for buyers looking to acquire a cornerstone piece of American real estate. For decades the biggest draw back for buyers was the cost of housing as Montana became a safe haven for the rich and famous which drove the prices up. Bozeman Montana has been cited by CNNMoney, Forbes, Outside Magazine and many other popular media companies over the years along with being awarded "Top All-American Dream Towns".
Kritanya Lambert, a licensed Montana real estate agent with Worldwide Realty Professionals, says that while Montana property values were not hit as hard by the recession as other states in the USA, Montana has become affordable again for Americans and foreigners looking for a second opportunity. Gallatin County is one of the fastest growing economic areas in the northern Rocky Mountains with over 100+ high-tech companies and entrepreneurs choosing lifestyle and Montana homes for sale over the fast paced cities.
Lambert is advising buyers and investors to take advantage of Bozeman real estate before inventory decreases and the best deals of Spring and Summer are gone. There are currently just under 100 condos on the market today at an average price of $109 a square foot with a median price of $142K. MontanaRealEstateAgent.com reports sales state wide in the first quarter of 2012 have been the strongest in 5-years due to current value and the internet affording more individuals the opportunity to live in Montana seasonally or full-time.
While Bozeman only has a population of approximately 40,000 residences, it has a reputation for some of the best live entertainment and fine dining in the state. Bozeman is also home to Montana State Univerity which has year round athletic events to include track, basketball and football games. Local year round activities are primarily outdoor themed to include hiking, biking, rafting, fishing, horseback riding, and skiing. Bozeman has been named in "Top 10 Ski Towns" by Skiing Magazine along with near by Big Sky Montana.
Lambert has recently joined Worldwide Realty Professionals, which she says allows her to invest more of her time and fiances into assisting her clients. Worldwide is one of the only 100% offices in the state of Montana with a strong focus on taking advantage of current technology to assist buyers and sellers. Lambert has also recently acquired a toll free number due to the demand of out of state buyers looking to take advantage of the Big Sky real estate market at 1-888-699-0220. Available Bozeman real estate and Bozeman condos can be viewed online with images and video at http://www.MontanaRealEstateAgent.com