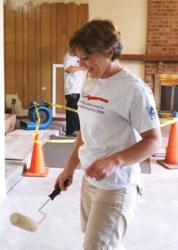 Service is a major part of AAM's way of life and we bring that to every community we serve.
Orlando, FL (PRWEB) July 31, 2012
Sheila, Charlie, Bob, Eleanor, Ellen, Lynn, Andy, Jim and nearly a hundred volunteers, most of whom are retirees from Solivita, an Orlando area active adult community, worked thousands of hours over the past four years in a 1950 era, subpar building, providing food assistance to neighbors in crisis. They knew how to fix the building but chose to spend scarce pantry funds for food, doing spot improvements with volunteers.
What happens when a company whose motto is "Creating a better America – One Neighborhood at a Time" comes to Florida? Answer: The St. Rose pantry building got an industrial strength makeover. Solivita's new management company, Associated Asset Management, AAM, employees and partner vendors directed their construction expertise, tools and generosity to update the St. Rose pantry.
AAM teamed up with Habitat for Humanity of Osceola County to do a "Brush With Kindness" Project at the building on Pleasant Hill Road. They painted, replaced light fixtures and smoke alarms, improved the AC system, donated and installed a water filtration system and refrigerator and built handicapped ramps inside and out. No pantry dollars were used for the project, AAM Florida staff and vendors donated their leadership, time, expertise and funds to make it happen, and Habitat provided the paint and light fixtures.
St. Rose of Lima food pantry serves the Poinciana community, providing food to approximately 25,000 people annually. A large number of Solivita residents invest volunteer time, multiple talents, food and funds in the lives of total strangers who are neighbors in need. Now they will work in a building that is safer, more beautiful and functional because of the AAM effort. Sheila Anderson, pantry director, said, "It gives me a sense of hope and pride that Solivita staff made this huge effort. Most of us are retirees and don't have the muscle to take on a job like this. AAM offered to help us and they exceeded our expectations in a major way. It really lifted our spirits and greatly improved the environment for our clients and volunteers."
Solivita Community and Club Manager Kraig Carmickle has been with AAM for 14 years, so the corporate culture of community service is part of his world view. "We believe the welfare of the people beyond our gates is a critical part of the health of our community here at Solivita. The more AAM staff and our residents are involved and contribute time and talent to the people in our neighborhood, we share our assets. Service is a major part of AAM's way of life and we bring that to every community we serve," said Carmickle.
Leading by example, AAM President Amanda Shaw and Vice President of Business Development and Marketing Susan Williams rolled a warm shade of sandy beige onto the pantry walls with the first team of AAM volunteers. "Heaven knows during these difficult economic times, the number of people in need keeps rising and formerly middle class families have found themselves in need of basic necessities," said Williams. "The work that the pantry and volunteers are doing is both admirable and humbling. " Williams continued, "We have seen the research that tells us that people who live in neighborhoods, where people regularly interact, look out for each other and come together, are happier, healthier and live more complete lives. That is what "Creating a Better America, One Neighborhood at a Time" is all about. We are not glib or fanciful in our belief that we can, and do, make a difference and that we have work worth doing," she noted.
"It's easy to change a corporate culture," said Shaw. "Once our team members start volunteering, they never turn back. It gives a person great happiness to do something worthwhile for another and that satisfaction becomes the internal reward that fuels the desire to do more. We invite employees to embrace important projects and they do the rest. It's enormous fun and they constantly outdo themselves. The Solivita team has already demonstrated that spirit and it's contagious. Hunger and poverty are huge problems and it takes all of us to solve them. We consider it an honor and a privilege to partner with organizations that give so much to the communities where we live and work. Together we can build a better America one neighborhood (and even one family) at a time!" said Shaw.
AAM works with many of the largest homebuilding and community development companies in the United States such as Del Webb/Pulte, Shea Homes and Meritage Homes. Founded in 1990, AAM employs 300 people and manages more than 375 homeowners associations in the United States. The company is a member of the Alliance Management Network, an invitation-only coalition of HOA management professionals dedicated to furthering industry professionalism, as well as a number of other HOA management services-related groups. AAM is dedicated to delivering total peace of mind to the boards of directors and homeowners in the communities it manages.