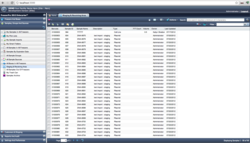 Freederick MD (PRWEB) July 29, 2012
RURO, Inc., a developer of software and inventory solutions introduces FreezerPro, version 5.3. Here are the new features which have been added to the product:

New Software Section, "Staging & Receiving Area", has been added to FreezerPro. The users can create records for samples and vials without locations. This is a useful tool for planning, pre-printing of barcoded labels, storage of shipping manifests, etc. This functionality is available in all editions of FreezerPro.
RURO software developers have created new FreezerPro function – "Scan & Move". The operation allows moving virtual records by means of a barcode scanner. "Scan & Move" function combined with the pre-printed barcode labels constitute an efficient operation for creating of a virtual box with the vial records.
Group Editing operation for FreezerPro sample records has been expanded. Now one can apply it to Sample Sources and Sample Groups.
We are pleased to announce addition of support for CSV import of Key/Value List User-Defined Field entries.
For more information please visit http://www.ruro.com/freezerpro
About RURO
Headquartered in the heart of Maryland's biotechnology corridor RURO develops state of the art computer software and RFID solutions for research, biotechnological, pharmaceutical, healthcare and government (homeland security) laboratories in the US and worldwide.
For more information please visit RURO online at http://www.RURO.com