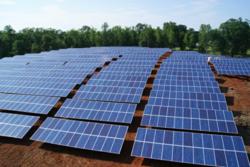 Thomaston, GA and San Jose, CA (PRWEB) July 30, 2012
Talesun Solar USA, Ltd., the US subsidiary of Zhongli Talesun Solar, a globally positioned, premium producer of solar modules and systems, announced the successful completion of the Georgia Power grid connected 1MW Upson Project that is owned by its partner Origis Energy on July 19.
Talesun Solar signed the supply agreement with Origis Energy on March 16, 2012. And according to the agreement, Talesun Solar contributed 1MW of premium-quality TP672P-280/285 modules to the Upson Project. "Talesun Solar is one of the best partners we have ever had!" commented Guy Vanderhaegen, Founder and Managing Director of Origis Energy. "We are extremely impressed by the high-quality products and the excellent customer service of that was brought to the table. They were instrumental in realizing this project in time." Eric Ma, General Manager of Talesun Solar USA, stated "It is our honor to enter into partnership with Origis Energy. We are thrilled to learn that led by Origis's world-class engineering team, construction finished in a mere matter of weeks. We sincerely hope this collaboration continues into the near future."
About Talesun Solar
Talesun Solar is an international operating producer of premium quality solar modules and cells for both private and industrial sectors. The company's 210,000m², fully automated production plant in the Chinese province of Jiangsu will reach a production capacity of 2GW by the end of 2012. Talesun Solar has subsidiaries in Singapore, Munich and San Jose. For more information about Talesun Solar, please visit: http://www.talesun.com.
About Origis Energy
Origis Energy develops finances and operates utility-scale solar plants across Europe and the Americas and. is a specialized provider of services to investors in large-scale PV projects. A strong management team and the ability to manage the full project throughout its entire lifetime makes Origis Energy an ideal partner for any investor in solar energy. For more information about Origis Energy, please visit: http://www.origisenergy.com/.