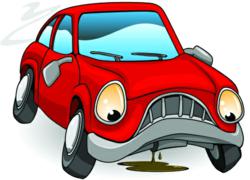 Don't be a victim, or make your car one.
Torrance, CA (PRWEB) July 31, 2012
According to autoMedia.com, an online provider of free car care and how-to auto repair articles, some people make a lot of mistakes with their cars. Not intentionally, but because they just don't know the damage that can be done when assuming certain, simple things about car care. Here are a few of the dumb things drivers should NOT do to their cars:
Gasoline in a Diesel: Putting any amount of gasoline in a diesel-powered vehicle is either an expensive mistake or a very expensive mistake. Damage is sure to occur because, unlike a gas engine, a diesel engine uses the fuel to lubricate parts, including the fuel pump, injector nozzles, and even the piston rings. People are sure to make the mistake of putting gasoline in a diesel vehicle because a gasoline pump nozzle will easily insert into a diesel's tank opening. (The diesel nozzle is too big to fit in a gas car's opening.)
Regular Gas in a Premium-Fuel Car: Times are tough, so perhaps budget-minded motorists think of saving a few pennies by using regular gas in a car that calls for premium. Instead of saving money, drivers may be wasting it. According to Charles Hubbard of Lexus College, using 87-octane fuel in Lexus vehicles that require 91 Octane will reduce fuel mileage by about six miles per gallon—which will more than offset the lower purchase price of regular gas.
New Tires on the Front: When replacing only two tires, it's tempting but dangerous to put them on the front. If you run into a deep puddle of water, the new front tires will easily slice right through, while the half-worn rears will hydroplane. Contributing editor Mac Demere says, "If you have new tires on the front and half-worn ones on the rear, when you hit a puddle in a corner the car will spin out."
To read about all five mistakes, please visit Dumb Things Drivers Do To Their Cars at autoMedia.com.
About autoMedia.com: The auto website was launched in September 2000 by a team of automotive editorial, design, and publishing professionals, with the goal to be the premier provider of quality automotive content on and for the Web. Today it features over 92,500 pages of original articles, including over 2,500 features researched and written by leading automotive experts, covering new and used car buying, new vehicle previews, road test reviews, car care maintenance, professional driving advice, and technology. Automotive enthusiasts and new car shoppers can read about the latest industry news, pricing, rebates and incentives, view photo galleries and research details on all makes and models. For more information visit autoMedia.com.