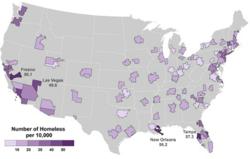 This is the model of the future; to teach people skills to lift them out of situations, to put them on the path to prosperity, and more importantly for their children - Tampa Mayor Bob Buckhorn
Tampa, FL (PRWEB) July 31, 2012
August 27-30, thousands of Republican party faithful, protestors and journalists will descend on Tampa, Florida, for the largest political event of the year - the 2012 Republican National Convention. As campaign issues are debated and slogans are exchanged, one of the most important issues in the Tampa area will be ignored - its new title as home of the country's highest rate of homelessness. As the leader of aid to homeless and struggling families, Metropolitan Ministries is celebrating its fortieth year of service in Tampa area. Founded in a single-room food pantry by thirteen downtown churches, the organization now provides food, housing, employment assistance and other services to more than 45,000 homeless and struggling families each year. Even as the severity of this local and national crisis has grown during the current recession, Metropolitan Ministries has successfully responded by expanding its services, building a new housing facility to more than double its capacity and capturing the hearts of more than 64,000 individual donors and volunteers in the 2012 RNC host city.
The need is vast in the four-county area, with more than 17,755 homeless residents in Tampa's Hillsborough County alone. The Ministries specializes in outreach and aid to children and families, the fastest growing segment of the homeless population, which experienced a 46 percent increase in 2011. "With such overwhelming need, we must respond for the families and children who are sleeping in their cars and have nowhere else to go," says Metropolitan Ministries CEO, Morris Hintzman. A Methodist pastor, Hintzman has led Metropolitan Ministries for more than 30 years and has kept the focus on providing help with compassion, dignity and respect.
From Despair to Self-Sufficiency
The Heberts (Dennis, Zayda and their five-year-old son Dennis, Jr.) are the new face of homelessness in America – families. More than 50 percent of this group is experiencing homelessness for the first time, and the fastest growing segment is children. When Dennis lost his job at Winn Dixie last summer, the family's finances quickly collapsed, and they were evicted from their mobile home. With few options, the Heberts made the same choice an increasing number of families in crisis are making – to live in their car. "We didn't feel like we were fit parents at the time," said Dennis Hebert of the week they spent in their tiny Geo Metro. He says it was a low point in their lives.
The Heberts were connected with Metropolitan Ministries and entered the Uplift U assessment program. The program not only provided them with a safe place to stay and regular meals, but also evaluated their specific needs to connect them with the counseling, job training and day care services essential in getting them back on the road to self-sufficiency. Almost a year later, Dennis and Zayda have accepted positions with Coca-Cola and Electrostim Medical Services respectively, and they will move into their own apartment in August.
Growing to Meet the Need
While the Heberts' story shows how families suffering the crisis of homelessness can successfully recover from this trauma, there is a waiting list for the Ministries' services. During 2011, the organization received more than 2,700 requests for emergency housing assistance – a 47 percent increase from the previous year, and they provided more than 1,200 emergency shelter nights for families in offsite motels and rental facilities. Mounting evidence of this unmet need prompted Metropolitan Ministries' board to make a bold move – to more than double the housing capacity and other services with a new facility designed specifically to meet the needs of homeless families.
Construction began on MiraclePlace in July, and once completed, will double the number of families and children the Ministries currently serves to more than 200 families and 450 children annually. "MiraclePlace is the next step in our unwavering commitment to lead a strong, caring community as we come together to help rebuild dreams and restore lives for poor and homeless families," stated Hintzman. The first phase of construction includes 50 new apartments, a new daycare, a counseling center, a welcome center and expanded dining facilities. The multi-phase growth plan also includes construction of a new K-5 partnership school with Hillsborough County Public Schools, a recreational center, a distribution center and refurbishment and expansion of existing Ministries' facilities. More than $9 million of the $23 million needed for both phases has been raised, with 100 percent participation from the Metropolitan Ministries' board of directors.
"Tampa is a unique community with generous donors who give and continue to give sacrificially to poor and homeless families," said Tim Marks, Metropolitan Ministries' president and chief operating officer. "When our board decided to take a step in faith to meet this growing need, we knew our neighbors would be here to support us." The construction will put 115 people to work, and another 25 permanent jobs will be created by new and expanded services.
A Community Effort
Metropolitan Ministries is not alone in meeting this need. The Tampa Bay community has taken tremendous ownership of the organization's mission to help homeless and struggling families – and the numbers don't lie. Metropolitan Ministries receives 95 percent of its $15 million operating budget from more than 52,000 donors including individuals, corporations, foundations and local businesses. Each year more than $5.3 million is donated in goods, materials, and professional services, and more than 12,500 locals volunteered 450,000 hours (a savings of $4.5 million in labor costs). "Tampa is a great place to live and work because Tampa gives back. I have never witnessed such tremendous support in any community as I have here," said Marks, who came to the Ministries from the Boston Rescue Mission, and has overseen the organization's recent expansion of outreach and prevention programs while strengthening bridges between corporate and faith communities.
Metropolitan Ministries has also formed relationships with more than 30 churches, nonprofits and governmental partners to bring hot meals directly to people in need throughout Tampa's four-county area. The Ministries prepares 2,300 hot meals every day, which are served by meal site partners from Ruskin to Safe Harbor to alleviate hunger and suffering in neighborhoods across the region.
Innovative Outreach
In addition to its goal of being America's most effective caregiver to poor and homeless people, Metropolitan Ministries' is committed to innovation, serving as a replicable model and engaging the community. These principles came together in September 2010 when the Ministries launched a new social entrepreneurship initiative called Inside the Box Catering. Each meal purchased through the catering service provides a meal for a neighbor in need because 100% of the proceeds support Metropolitan Ministries' work to alleviate hunger in the Tampa Bay community. In addition to providing meals to those in need, Inside the Box also provides a valuable training opportunity for clients of Metropolitan Ministries. Participants in their Culinary Arts Program learn food service and customer service skills in a real-world environment, better equipping them to find employment and attain self-sufficiency. The operations are completely staffed by previously homeless individuals, with eight full time staff members assisted by four interns who are current residents of Metropolitan Ministries.
This unique opportunity for social responsibility has quickly gained wide appeal among Tampa's corporate community, and a Café storefront at 505 North Tampa Street was added in February to serve the same high-quality lunches in a downtown retail environment. Together, the café and catering businesses have served more than 52,000 meals, providing another 52,000 meals for hungry people. At the Café's ribbon cutting earlier this year, Tampa Mayor Bob Buckhorn said, "This is the model of the future; to teach people skills to lift them out of situations, to put them on the path to prosperity, and more importantly for their children. This is a great concept and I will be here frequently." Inside the Box will also be catering a number of 2012 Republican National Convention meetings, and opening its Cafe door to Tampa's many convention visitors.