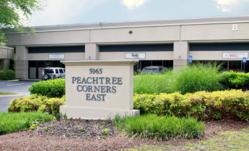 Peachtree's location in the Norcross-Technology Park submarket will appeal to a wide range of businesses and our Atlanta team looks forward to serving them. -Dan Ward, Director of Investments-Meritex
Minneapolis, MN (PRWEB) July 31, 2012
Meritex today announced a further expansion of its joint venture holdings in Atlanta with the acquisition of a 106,945 square foot, multi-tenant, office/warehouse project located at 5965 Peachtree Corners East in Norcross, Georgia. The value-add property is currently 70% occupied by nine tenants. "Our investment strategy focuses on acquiring properties where we can create value and produce consistent cash flows," said Dan Williams, chief investment officer of Meritex. "The Peachtree property is well-located and highly functional, but has suffered from deferred maintenance. Our immediate focus will be to reposition the asset to meet Meritex standards by investing capital to enhance landscaping, install a new roof and renovate suite interiors."
This acquisition further expands Meritex's joint venture relationship with a major institutional investor by increasing its holdings in Atlanta to more than 1,000,000 square feet. Meritex is the managing partner and will manage the Norcross property on behalf of the venture. "We are excited about this addition to our portfolio in Atlanta. Its location in the vibrant and close-in Norcross-Technology Park submarket will appeal to a wide range of businesses and our Atlanta team looks forward to serving them," commented Dan Ward, director of investments for Meritex in Atlanta.
Resource Real Estate Partners, LLC represented Meritex on the acquisition and has been retained as the leasing agent for the property.
Company Information: Meritex is a private real estate investment and management company that acquires, develops, owns and operates commercial real estate, primarily institutional grade, multi-tenant industrial properties. The Company owns, leases, and manages nearly 9.2 million square feet of commercial real estate in 7 markets in the U.S. Its portfolio consists of multi-tenant industrial, office and subsurface industrial properties. The Company's properties are located in Atlanta, Columbus, Denver, Houston, Indianapolis, Kansas City, and Minneapolis-St. Paul. Additional information can be found at the Company's website http://www.meritex.com.