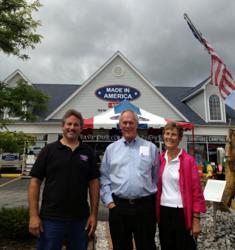 Since 1905, my family has been committed to our employees, our community and making fine quality socks just for you.
Elma, New York (PRWEB) July 28, 2012
For most individuals, the term "Made In America" has come up in conversation recently, whether it had to do with politics, jobs or even the economy. For awhile now, the United States economy has been trying to limp back to a more productive state and despite the politicians 'bickering' to the point that nothing gets done, two men have stepped into the ring and are taking the problem head on.
Bob Chesebro, owner and CEO of Wigwam Socks, has been working with Mark Andol, owner and CEO of the Made In America Store, to show that we can bring American manufacturing back to its glory days. July 27th, 2012, Bob Chesebro, and his wife Katherine, stopped by the Made In America Store to visit and see how the US made store is faring.
Mark Andol opened the Made In America Store back in April of 2010 with one mission; To support American manufacturing by selling American made products. Andol pushes the envelope for "American made" by requiring each and every products to be 100% USA made. Each vendor at the Made In America Store is required to submit a letter of authenticity that states where each component came from to manufacture their product. Every component must be American made to go on the shelf at the Made In America Store.
One of the first vendors at the Made In America Store was Wigwam Socks, which have been 100% American made since the store's opening. Since the opening, Wigwam socks have been one of the hottest selling items and this still holds true today, being the highest selling product at the store.
Consumers can visit the Made In America Store website and shop for Wigwam Socks.
Bob Chesebro visited the store as a friendly gesture after the Made In America Store was invited to the Wigwam Socks factory in Sheboygan, Wisconsin.
Both Mark and Bob share the same message and goal of "striving to keep manufacturing in the United States and to create and save American jobs." For 107 years, Wigwam has kept its factory in the states and is on its way to being a 4th generation - family owned business. In addition, Bob Chesebro lobbies in Washington D.C. for programs that limit the quantity of products allowed to be imported while still pursuing fair trade policies with other countries.
Wigwam is known for manufacturing the highest quality socks in the industry. It's Ultimax technology moves moisture from the bottom up and is patented to Wigwam. Wigwam isn't limited to one fiber and had many options to choose from when designing and manufacturing their socks. With their manufacturing plant only yards away from the corporate offices, Wigwam has excellent quality control as well.
Wigwam Socks offer socks for any situation and come in may styles and colors, click here to shop for your Wigwam Socks today!
"We want you to feel good about buying the Wigwam brand because we've set a standard of integrity that we strive to live up to everyday," says Bob Chesebro, Owner and CEO of Wigwam Mills Inc. "Since 1905, my family has been committed to our employees, our community and making fine quality socks just for you."
In addition, Wigwam's manufacturing process is environmentally friendly. The state of the art factory has worked with local utility companies to limit their carbon footprint and be more efficient by installing solar panels on top of their facility to heat their water. The water is used to wash the dye from the socks and to heat some of the factory. Also, motion sensory lights were installed to limit the amount of power wasted and needed inside the facility.
The Made In America Store is located at 900 Maple Road in Elma, New York and is committed to selling 100% American manufactured products. You can visit http://www.MadeInAmericaStore.com for more information or shop our catalog of over 290 vendors that are devoted to producing USA made products. All US military personnel both active duty and retired receive a discount every day. Consumers can also keep up to date news articles, events, photos and contests with Facebook, Twitter, Google+, Pinterest and Tumblr!