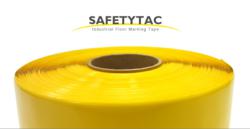 Lake Oswego, OR (PRWEB) July 30, 2012
When it comes to implementing a new safety program or 5S organizational marking, the days of using paint to line aisles, pathways, and safety lanes is a thing of the past.
Industrial-quality floor tapes are now widely regarded by most companies to be the industry standard for floor marking because it is effective, highly visible, easily applied and cleaned, and, ultimately, the most durable means for lining warehouse and manufacturing facility floors.
SafetyTac is Creative Safety Supply's top selling floor tape, and for good reason: it is designed to out-perform paint in even the harshest industrial environments, as well as most of the other brands of tape. Creative Safety Supply customers put SafetyTac through the toughest tests on a regular basis - from forklifts, trucks, heavy foot traffic and pallets to chemicals, grease, standing water.
The makers of SafetyTac offer the following advice when choosing the best industrial floor marking tape:
1.Ensure that the tape chosen is abundant enough to span a long enough distance, and can be applied with ease and without easy creasing.
2.The tape chosen should be made of highly durable material for the job at hand. The longer it lasts, the less it will need to be replaced over time.
3.Adhesive used for backing should be resistant to the kinds of environment elements (temperature, water, chemicals, etc.) that exists in the facility. It should resist delamination.
4.Choose a tape that has a low enough profile to be cleared by the wheels and edges of the vehicles and equipment that are moved about a facility.
5.Colors available should be highly visible and resist fading from climate, UV rays, and environmental factors.
These are the most important factors when choosing the right tape for the job. The longer period of time that the tape stays put, the less money is needed to pay for replacing new strips of tape.