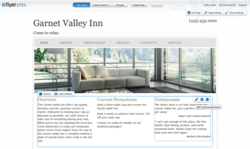 "vFlyer Sites has allowed me not only to create a website that looks great, but also to easily update the site myself," says Jaime Hernandez, founder of Seattle Consultant LLC. "As a broker, having this ability to make quick changes is invaluable."
San Francisco, California (PRWEB) July 30, 2012
Until now, small businesses have faced a tough choice when it comes to building a website. On the one hand, they could opt for a free or low-cost website builder, which tend to be easy to use but also inflexible and limited in what they offer. On the other hand, they could go with a more sophisticated content management system (CMS), which are more powerful but also more complex and difficult to learn. Between these two options, it's no wonder that so many businesses either don't have a website at all or have a website that they can't update themselves.
vFlyer aims to provide small businesses a hybrid option, combining the simplicity of a website builder with the power and flexibility of an advanced CMS, with vFlyer Sites 2.0. The company unveiled the new and improved version of its website service this week and also introduced a free plan that allows people to publish a website at no cost. vFlyer Sites 2.0 simplifies website creation and management with a three-step site creation wizard and a beautifully intuitive Site Editor, but it also offers powerful capabilities normally available only in high-end content management systems.
"Our team has experience working on advanced content management systems for Fortune 500 companies. We identified core capabilities of these systems and simplified them to be intuitive for small businesses", vFlyer CEO Aaron Sperling says.
With vFlyer Sites, business people can not only build a website in minutes, they can also manage the website through its entire life-cycle. Special emphasis was put on optimizing and simplifying post-launch site management, an area neglected by many website services. The updated version of the service makes ongoing site management even easier, with a simpler, more intuitive interface and a number of key feature improvements, including:
Structured content templates
Predefined templates for a wide range of content, from articles to team member lists to client testimonials, make adding and updating website content easy, even for novice users. Most of these content templates offer multiple layouts and customizable settings, allowing users to tailor them to suit their needs.
Advanced page templates
vFlyer Sites uses a unique page template approach that makes it easier for users to manage content across multiple pages. The new version improves on this approach by allowing users to add or remove content on one page without impacting the other pages that use the same page template.
Undo/redo capabilities
Another time-saver and safety net feature in vFlyer Sites 2.0 is the undo/redo button. This enables users to make content and design changes with the comfort of knowing that the changes can be easily reverted.
Listing integration
A major feature of vFlyer Sites is the integration of listings from the vFlyer Marketing service. A user can easily import his or her vFlyer listings into the website, which allows for the listing inventory on the site to be updated automatically. With vFlyer Sites 2.0, the listing integration has been enhanced with new listing formats and more granular controls of the listing display and sort order.
Saved modules
All of the content modules added to a site are saved, so the site owner can reuse the same module elsewhere on the site instead of having to recreate it from scratch. No other major website service makes it as easy to reuse content and modules.
Separate preview and live environments
In most website services. as soon as changes to the site are saved, those changes are reflected on the live site. Since there are both live and preview environments with vFlyer Sites, multiple content and design changes can be made without impacting the live site.
"vFlyer Sites has allowed me not only to create a website that looks great, but also to easily update the site myself," says Jaime Hernandez, founder of Seattle Consultant LLC. "As a broker, having this ability to make quick changes to the site is invaluable. After being presented a demo, I am really looking forward to the improved design and functionality of the new version."
Sperling believes that vFlyer Sites 2.0 will have a major impact on the small business community. "It's time that business owners see building and managing their own websites as an essential business process, and vFlyer Sites gives them the tools to do it themselves, for free or for a very low price, far lower than what they would pay a webmaster." The free Sites Personal plan allows for up to 10 pages per site and lets users choose a personalized URL for their site. vFlyer Sites subscriptions start at just $12/month and offer more pages, more storage, the option to point a custom domain name to the site, and phone and email support.
###
About vFlyer
Based in San Francisco, CA, vFlyer is an award-winning online marketing company that is dedicated to providing cost-effective and efficient marketing tools for small and midsize businesses. Created for sellers looking to generate income and maximize exposure, vFlyer's marketing solutions include online classified ad and content creation, management and syndication (vFlyer Marketing) as well as an incredibly powerful, affordable and easy-to-use website creation and management service (vFlyer Sites). The suite of services is the perfect choice for small business owners who want to build credibility and win customers by having a great-looking, highly functional, and easily updatable website and marketing content. For more information, please visit http://www.vflyer.com.
###