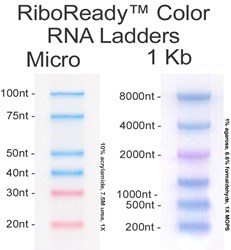 Solon, OH (PRWEB) July 30, 2012
Molecular weight standards comprised of RNA fragments of predetermined sizes are essential on every gel for the size determination of unknown RNA. RNA markers in a variety of formats and size ranges are available from AMRESCO, including the newest additions, RiboReady™ Color Micro RNA Ladder and RiboReady™ Color 1 Kb RNA Ladder. Both ladders feature six bands pre-stained with two distinguishable colors for easy size identification and are supplied in a ready-to-use mixture that does not require heating or addition of denaturing agent before use.
The RiboReady™ Color Micro RNA Ladder is designed for precise sizing of RNA molecules in denaturing acrylamide gels, with apparent band sizes of 100, 75, 50, 40, 30 and 20 bases. RiboReady™ Color 1 Kb RNA Ladder, ideal for denaturing agarose gels, contains apparent band sizes of 200, 500, 1,000, 2,000, 4,000 and 8,000 bases. The RiboReady™ Color Ladders not only enable visual monitoring of RNA migration during electrophoresis, but also may be used to assess transfer efficiency of RNA to a blotting membrane and the membrane's orientation. RiboReady™ Color Ladders simplify molecular weight determination and are compatible with traditional denaturing RNA gels as well as AMRESCO's Formaldehyde-Free RNA Gel Kit and Rapid Formaldehyde-Free RNA Gel Kit. Each vial has sufficient material for 25 lanes.
For more information about the RiboReady™ Color Ladders or any other AMRESCO products, visit http://www.amresco-inc.com or call 1-800-448-4442.
AMRESCO is a manufacturer and supplier of high quality biochemicals and reagents for molecular biology, life sciences, proteomics, histology and clinical areas of research. The company is ISO certified and has QSR compliant facilities to ensure customers receive the highest quality products.