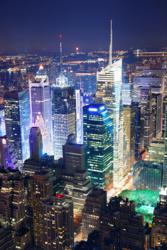 "Our business is online and by its nature distant, so we take advantage of every opportunity to meet with our affiliates to see how we can service them better," said Morgan Gethers, T3Leads' Business Development Manager.
Encino, CA (PRWEB) July 30, 2012
T3Leads, the nation's leading online payday lead generation firm, is attending Affiliate Summit East to be held in New York City August 12-14, 2012.
The conference in its 10th year will be held at the Hilton New York. The Summit was founded by Missy Ward and Shawn Collins to continue the education of affiliates nationwide while giving them the opportunity to network as well. There is an Affiliate Summit West show as well, which will be held in Las Vegas in 2013.
Since T3Leads is one of the top pay per lead affiliate networks in the country, they are excited for the opportunity to meet face to face with many current affiliates, as well as new ones.
To sign up for a meeting with an affiliate manager, visit the T3Leads website.
T3Leads markets payday loans to the United States, the United Kingdom and Canada. They have affiliates spread over four continents. They are headquartered in Encino, California and employ more than 50 people worldwide.
T3Leads matches lead generators AKA affiliate marketers with businesses, in this case, payday loan lenders, who are looking to expand their business. They use sophisticated web design and back-end technology to offer the most productive and user-friendly lead generation system available.
T3Leads utilizes a proprietary platform wherein affiliate marketers customize T3 designed sites, or they may create their own. For those that create their own it is a host and POST system.
This combination of websites results in lead traffic of the highest caliber.
In addition to USA payday loans, T3Leads also generates leads for consumer and commercial insurance industries.