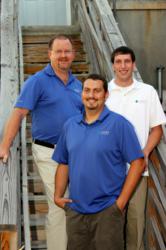 "We've got a great team at Linoma from development and customer support to sales and account management. It's great to bring even more talent into the fold." Bob Luebbe, President, Linoma Software
Omaha, Nebraska (PRWEB) July 30, 2012
In response to continued company growth and its ongoing commitment to research and development, Linoma Software has hired three software developers since January.
"Our sales have been steadily growing over the last year or two," President Bob Luebbe said, "and as we extend further into the Windows and Linux markets, we're finding more opportunities to extend our GoAnywhere product features as well."
In March, Java developer Brad Medinger joined the development team after three years working with the State of Nebraska. A graduate of Southeast Community College in Milford and current Lincoln, Nebraska resident, Medinger says he saw the opportunity as a good chance to continue his hands-on education as a software developer with a growing company that he says has been welcoming and supportive.
"I have really enjoyed the new challenges," Medinger said, "including helping to build new features for both GoAnywhere Director and GoAnywhere Services."
Jon Simmons arrived at Linoma a week after Medinger, and splits his time between development related to GoAnywhere and website management tasks. As a graduate of Iowa Western Community College, Simmons has held a variety of positions in IT and marketing, a rare combination.
"From the first visit to Linoma headquarters, I could tell that the company offered a very caring, nurturing family environment that I think is rare in the IT realm," Simmons said.
His short commute from Gretna, Nebraska is another bonus, and he said that not only does he love the challenge of finding ways to enhance "one of the best managed file transfer products on the market today," he said "I also enjoy spending part of my time creatively, collaborating with the marketing department."
The most recent addition to the Linoma team is Rick Elliott, a longtime customer of Linoma Software and what Luebbe calls "a GoAnywhere power user."
"Rick has not only been a valuable customer for us," Luebbe said, "but a great resource, too. He really cares about our products and has always given us great feedback and ideas. I thought, why not bring that expertise in-house?"
Elliott lives in Phoenix, Arizona and will be one of a handful of remote Linoma employees. As a long-time iSeries developer, his background includes installation, configuration, administration, programming and design of iSeries systems. He also has extensive experience programming and integrating communication with Windows and Linux systems.
When Luebbe invited him to join the Linoma staff, Elliott didn't hesitate.
"Getting to know the support team and others at Linoma over the years made it a simple 'yes.' I was introduced to the GoAnywhere suite at my last job," Elliott said, "and was impressed with its flexibility across multiple platforms and ease of use. This led to using the Surveyor/400 package and I've been hooked ever since."
Elliott will be fulfilling a multitude of roles, including serving as an RPG programmer to support Linoma's Crypto Complete data encryption software as well as providing support for GoAnywhere. He'll also assist with demos, training, and product support at various conferences.
"We've got a great team at Linoma," Luebbe said, "from development and customer support to sales and account management. It's great to bring even more talent into the fold."
________________________________
For additional information, contact Susan Baird at Linoma Software at 402.944.4242, or email snbaird(at)linoma.com.
About Linoma Software
Founded in 1994, Linoma Software provides innovative solutions for managed file transfer and data encryption. With a diverse install base of more than 3,000 customers around the world, Linoma's focus on research and development, as well as customer service and support, contributes to its leadership in the software industry.
About GoAnywhere™ Managed File Transfer Suite
GoAnywhere™ is a managed file transfer and secure FTP solution that will streamline and automate file transfers with trading partners, customers, employees and internal servers. Enterprise level controls and detailed audit logs are provided for meeting strict security policies and compliance requirements including PCI DSS, HIPAA, HITECH, SOX, GLBA and state privacy laws.
GoAnywhere can be installed on most platforms including Windows®, Linux®, IBM® i (iSeries®), UNIX®, AIX® , and Solaris®, and supports popular protocols including FTP, SFTP, HTTPS, and AS2. Optional modules include Secure Mail for ad-hoc file transfers with Outlook 2010 plugin and RSA® certified FIPS 140-2 validated encryption.
The GoAnywhere solution is comprised of three products:

GoAnywhere Director™ - Managed File Transfer (scheduler, workflow automation, file encryption, etc.)
GoAnywhere Services™ - Secure FTP Server and optional Web Server
GoAnywhere Gateway™ - DMZ Gateway with Reverse and Forward Proxy
Visit GoAnywhereMFT.com to download a free trial.
For additional product information, contact Brian Pick at Linoma Software at 800.949.4596, or email bjpick(at)linomasoftware.com.