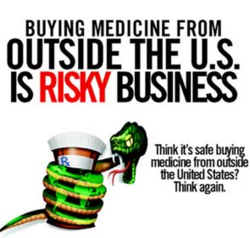 At AccessRx.com our top priorities are our customer's safety and privacy," Bernstein said. "We hope our educational video and our in-depth blog posts about this issue will serve as a tool kit for consumers looking for a trusted place
(PRWEB) July 30, 2012
Purchasing merchandise online has become second nature. From eBay to Amazon, the number of sites that offer products at the click of a button continues to grow daily. While shopping online has become part of the American shopping experience, authorities warn of fake sites and scams. Extra caution should be used when ordering anything online, especially if ordering medication through an online pharmacy.
http://www.AccessRx.com, an online facilitator of prescription medications, has launched an educational campaign to educate consumers about the pitfalls of unsafe medical sites. "There are so many websites that look legitimate but are doing nothing more than peddling fake drugs," AccessRx.com's Director of Marketing Rich Bernstein said. "Prescription medications are nothing to fool around with. They play a vital role in the health of millions, and we at AccessRx.com want to warn people about these sites."
AccessRx.com is operated by a government-regulated facilitator that works with pharmacies in the U.S. to ensure patients can get the medications they need quickly and safely. The site, which assists more than 500,000 loyal customers, has created a video to educate the public about dangerous medical websites, which are usually run out of third world countries. These sites make sweeping promises of cheap or generic medications at rock-bottom prices. Often the consumer is sent fake meds, which can be dangerous to anyone's health.
"At AccessRx.com our top priorities are our customer's safety and privacy," Bernstein said. "We hope our educational video and our in-depth blog posts about this issue will serve as a tool kit for consumers looking for a trusted place to purchase their prescription medications."
As more and more questionable sites hit the information superhighway, authorities have suggested shopping at trusted sources. "When making purchases online, people seek out reliable sites," Bernstein said. "If people exercise that amount of caution when shopping for everyday items, they should exercise even more caution when purchasing medications. AccessRx.com is that reliable site people are looking for."
To see the educational video or to learn more about this diverse issue, visit AccessRx.com.
About AccessRx.com
AccessRx.com has served more than 500,000 satisfied customers over the course of 12 years. Based in the U.S., the internet facilitator provides only FDA-approved, brand name medications such as Viagra, Cialis and Levitra online. Our experienced team of contracted physicians and pharmacists are all state-licensed in the U.S.