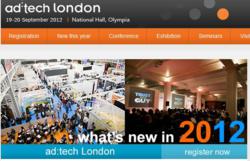 "It's important for us to meet with our lenders in order to find out how we can serve them better," said Diana Kirakosyan, Senior Product Manager for payday loans.
Encino, CA (PRWEB) July 31, 2012
Affiliate network leader, T3Leads, is an attending sponsor of ad:tech London in September 19 & 20, 2012. ad:tech is a two-day convention of companies who operate within the digital marketing community. It features expert speakers from across the globe who will address the state of online marketing, as well as exhibitors who will be sharing the latest updates their companies have to offer.
As the vast majority of T3Leads' business is conducted online, they anticipate any occasion to meet with their clients in person and are making the most of this opportunity. They are sponsoring the T3Leads Networking Lounge, where attendees can get away from the hectic pace of the convention without leaving the building.
Other members of the T3Leads team that are attending the conference include CEO Dmitry Fomichev, CMO David Gasparian, Business Development Manager, Egreis Gjergjani, and Diana Kirakosyan.
T3Leads markets payday loans to the United States, the United Kingdom, and Canada. They have affiliates spread over four continents. They are headquartered in Encino, California and employ more than 50 people worldwide.
T3Leads matches lead generators AKA affiliate marketers with businesses, in this case, payday loan lenders, who are looking to expand their business. It uses sophisticated web design and back-end technology to offer the most productive and user-friendly lead generation system available.
T3Leads utilizes a proprietary platform wherein affiliate marketers customize T3 designed sites, or they may create their own. For those that create their own it is a host and POST system. This combination of websites results in lead traffic of the highest caliber.
In addition to USA payday loans, T3Leads generates leads for consumer and commercial insurance industries.