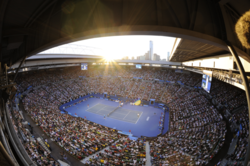 As an official North American tour operator for the Australian Open Tennis Championships and with over 36 years of experience, Steve Furgal's International Tennis Tours has continually set the benchmark for first-class travel.
San Diego, California (PRWEB) July 31, 2012
Start your outbound travel from Los Angeles and begin your journey in Cairns, Australia. Located off the North East coast, Cairns is widely referred to as "The Gateway to the Great Barrier Reef". Stay at the Sheraton Mirage Port Douglas, ideally located between two UNESCO World Heritage sites; the Great Barrier Reef and the Daintree Rainforest.
The Great Barrier Reef is probably the most well known among the seven natural wonders of the world. It is the largest living coral reef on earth and the only living thing visible from outer space. Believe it or not, the reef covers a larger area than Italy, 133.360 square miles. This is a once in a lifetime opportunity to enjoy the epicenter for scuba diving and snorkeling!
Fasten your seatbelts for an action packed day two. The Daintree Rainforest is as spectacular as the reef! Explore the lush jungle via a boardwalk tour and a personalized 4WD excursion. Walk along the beaches of Cape Tribulation, rated among the most beautiful in the world. End the day with a boat ride adventure looking for one of the most well known animals living in the Cape Tribulation area – the crocodile!
Travel South to the amazing city of Sydney, staying at the five-star Park Hyatt Hotel. This newly multi-million dollar renovated luxury boutique property is nestled in between the world's famous Sydney Opera House and the harbor bridge. Sitting right on the water's edge of one of the most amazing harbors, the Park Hyatt is centrally located in one of the most cosmopolitan cities. Enjoy a Sydney Harbor cruise with extra free time to climb the bridge. Take part in a tennis exchange with a nearby club and meet some of the friendliest locals.
Navigate further South to the city of Melbourne, the home of the Asian/Pacific Grand Slam and the first of the four grand slam tennis events of the year. Enjoy an evening meal on the famous tramcar. Stay at the world renowned Crown Towers hotel with access to the exclusive Crystal Club. Experience the Semis & Finals of the Australian Open in the best seats you can get, "Corporate Gold Box Seats", located in the first eight rows behind the baseline and ALWAYS in the shade!
Choices are unlimited with a variety of options to suit everyone's desires.
Visit http://www.tours4tennis.com for specific dates, details and pricing for a delightful holiday in this truly beautiful country.
For booking and additional information, please contact:
Cathy Brotemarkle
Steve Furgal's International Tennis Tours
(800)258-3664
http://www.facebook.com/tours4tennis