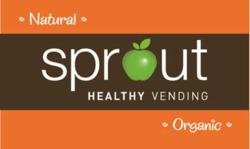 Irvine, California (PRWEB) July 31, 2012
With a wedding date in March, Scott and Katie have also been looking for a business opportunity they could start together and watch grow. "We hope to make this a successful team effort that flourishes in the years to come – something we can both be proud of. When we came across Sprout, we knew it was something that could have success in our area while also doing things to benefit the community. We look forward to starting a life together and having Sprout be a part of it," Hotard shares.
The soon-to-be Hotard's are confident that the machines are going to do exceptionally well in their area for many reasons.
"We expect potential locations to have the same enthusiasm about Sprout as we do and welcome the concept to the community with open arms. We've already gotten great feedback from friends and family members in the area when we tell them what we're doing. The parents are especially receptive and seem concerned their kids are not given enough healthy-food options at their schools." Hotard shares. "If you read the newspaper, you often see articles about measures the local and national governments are taking to address the issues we have with obesity."
Hotard continues, "Louisiana has the fifth highest obesity rate at 31.6 percent. The state ranks eighth, tying with West Virginia, in the list for fastest growing obesity rates since 1995. Nearly 65 percent of adults in our state are overweight or obese, and 48 percent of our children fall into one of those two categories. Today, more than two out of three states, 38 total, have obesity rates over 25 percent, and just one has a rate lower than 20 percent. We want to help improve these shocking statistics."
The Hotard's believe most people want to make healthy food choices, "but sometimes eating right comes at the cost of convenience. Not with Sprout. You get the nutritious benefits in a convenient manner. Sprout is a healthy alternative in a market traditionally dominated by junk-food options," Hotard says.
The public's enthusiasm combined with the alarming increase in obesity rates is what motivates the Hotard's to provide their community with healthy snack choices. They also were drawn to the state of the art machines themselves. "The machines really do catch your eye with all the colors -- it just looks cool. But mostly we really like that the machines are smart and efficient and provide cashless payment options for everyone. We can't wait to see just how much the concept positively effects our town," Hotard says.
Co-Founder Chris Wyland states, "Baton Rouge, Louisiana is a great market to tap into. It has been proven that if people are given the opportunity they will make healthier choices. Baton Rouge is known to be one of the most overweight cities so I am very confident the machines will have a very positive impact there. We are thrilled to have the Hotard's come on board and operate in this territory. They demonstrate a lot of passion and dedication through their own healthy lifestyles which has truly aided in their success thus far."
About Sprout Healthy Vending
Sprout Healthy Vending provides state-of-the-art vending technology, thousands of healthy and organic products and turnkey customer solutions for regional operators. Currently, Sprout Healthy Vending has over 70 operators in 40 markets in the U.S. with 1,000 individual locations projected by the end of 2012. To learn more about the company, locations and products please visit http://www.sprouthealthyvending.com or call (800) 450-7648.