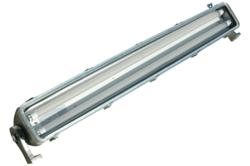 The aluminum construction of this explosion proof LED fixture makes it resistant to saltwater corrosion and is well suited for oil rigs and offshore applications.
Kemp, TX (PRWEB) July 30, 2012
The HAL-48-2L-LED hazardous location LED light provides operators with a rugged LED lighting solution that offers the ability to replace or upgrade lamps for higher output and longer fixture life. Constructed of copper free aluminum with a corrosion resistant high gloss aluminum reflector assembly, this fixture is ideal for use in marine environments where wetness and the corrosive effects of salt water are issues. Class 1 Division 2 approved, this light is suitable for environments where flammable chemicals and vapors may be encountered and is popularly used within the offshore petrochemical industry. The high output LED lamps installed in this unit produce 15% more light than comparable fixtures fitted with T5 bulbs, yet uses less energy. These LED lights have a 5300K color temperature, which gives them very good color rendering and contrasting properties and makes them and ideal lighting solution for areas where close work is performed. Unlike more expensive integrated LED fixtures, the HAL-48-2L-LED allows operators to replace lamps as they reach the end of their service life or higher output versions become available. Whereas a typical integrated LED light fixture must be replaced if the operator desires higher output or it reaches the end of its service life, operators can simply replace the lamps in the HAL-48-2L-LED as needed for less than $100.00 in cost. With a 50,000 hour rated service life, operators will not need to replace lamps for years, but since Magnalight normally offers bulbs with up to 30% higher output and average of every six months as LED technology continues to advance, the serviceability of these lamps offers excellent value and cost effectiveness. With no ballast or heavy cast aluminum frame, these hazardous location LED lights are also lighter in weight, making installation and servicing easier and less costly than with integrated LED fixtures. Additionally, most manufacturers require several weeks of lead time to deliver comparable units to customers. Larson Electronics' Magnalight however maintains a ready inventory of approved fixtures, allowing them to provide short turnaround and in many cases same day shipping. The HAL-48-2L-LED is a highly versatile, upgradeable and serviceable LED lighting solution that provides the safety of UL hazardous location approval and the durability of corrosion resistant construction. Ideal for offshore petrochemical industries and approved for Class 1 Division 2 locations, this light is an affordable and serviceable alternative to more expensive integral LED fixtures.
"This durable aluminum LED light is UL listed for saltwater and marine type environments, featuring two four foot LED bulbs that are impact and vibration resistant with a 50,000 hour life span," said Robert Bresnahan of Larson Electronics Magnalight.com. "The aluminum construction of this explosion proof LED fixture makes it resistant to saltwater corrosion and is well suited for oil rigs and offshore applications."
Larson Electronics' Magnalight produces a wide range of intrinsically safe LED lights, explosion proof LED work lights, portable LED light towers, explosion proof flashlights and LED trouble lights. The entire Magnalight line of explosion proof lighting can be viewed by visiting Magnalight.com. You can also call 1-800-369-6671 to learn more about all of Magnalight lighting products and their ability to provide custom ordering options. For international inquires call 1-214-616-6180 for more details.