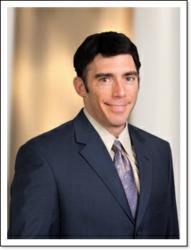 "Orange County has a reputation for having an exemplary caliber of lawyers, and it's fantastic to be considered for such an honor."
Costa Mesa, CA (PRWEB) July 27, 2012
"It's such an honor to be recognized among the best of the best," Katz said.
"Orange County has a reputation for having an exemplary caliber of lawyers, and it's fantastic to be considered for such an honor."
Katz is General Counsel for Morgan Drexen, a legal support services company based in Costa Mesa. His approach to his job is much different than in his prior position as a litigator.
"Litigation is a very reactive practice," he said.
"As General Counsel, I'm able to be very proactive in my approach, working closely with the company's executive and customers across the country to develop a service that can withstand or, better, preclude the threat of litigation."
As a company that provides legal support to attorneys, it is often mis-categorized as a debt settlement firm, which requires Katz to work with regulators at both the state and federal level to make certain services provided are in alignment with laws in each state.
"Jeffrey has really paved the way as an innovator," said Morgan Drexen CEO Walter Ledda. "He has ensured compliance in states across the country, including most recently Connecticut, Virginia, Utah, Washington and Minnesota."
Katz was also the driving force behind a set of core values implemented this year on the company's fifth anniversary.
He's also very active in the Orange County community, including being an member of the Association of Corporate Counsel, in the Young Leadership Division of the Orange County Jewish Federation, as well as many Morgan Drexen company-sponsored events such as CHOC Children's events, Make-A-Wish®, and the Families Forward Holiday Toy Drive.
The Hastings College of the Law graduate has lived in Orange County for the past eleven years.
The Orange County Business Journal General Counsel Awards recognize exemplary legal professionals. This year, 32 people have been nominated in three categories. The winners will be announced at a banquet on Wednesday, September 19, 2012.