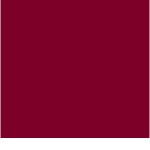 The only conspicuous choice on the Fall 2012 men's palette is Rhubarb
Boca Raton, Fl (PRWEB) July 29, 2012
Masculinity has traditionally been defined more often by what is seen on Wall Street, rather than what is displayed on the runways. Maybe this year will be the year that bold designs, prints and colorful palettes will overshadow the conservative styles of metropolitan men.
Gallery Atlantic has noted some overlap between the Pantone Fall 2012 color palettes for men and women. The fabulous French Roast and Titanium are basic neutral tones found on both palettes, but when it comes to the basics, that is where the similarities end. Whitecap Gray is a woodsy off-white, reminiscent of the cloudy Winter sky. The basic colors are completed by the inclusion of the muted Sea Fog, a gray which has been softened by a lusty hint of purple. These subtle, refined tones are sure to be enthusiastically applied by popular designers. Already this year, a French Roast and Charcoal color blocked suit was the toast of the runways at Bottega Veneta.
The significant overlap between the two palettes is seen in the color selections. The inclusion of Olympian Blue on the Fall 2012 men's color palette should come as no surprise, and will prove to be a popular tone for athletic apparel. Two hues on the opposite ends of the green spectrum are also certain to be a hit with the sports enthusiasts, Ultramarine Green and Bright Chartreuse. Tangerine Tango, a bold and fruity hue would be an unexpected inclusion, if not for the similarly toned jacket donned by actor Adrien Brody during his modeling stint in the Prada menswear show last year. Honey Gold is another one of those fantastically versatile colors, popular with men and women. The burnished tone will be a prime choice for collegiate inspired fashion.
The only conspicuous choice on the Fall 2012 men's palette is Rhubarb. An earthier relative of bordeaux, Rhubarb will prove to be the stand out hue in the menswear color scheme. This rich shade epitomizes everything that is sophisticated in men's fashion and expresses a feeling of passion and emotion usually reserved for their female counterparts. The intense style was deftly presented by Gucci this past year, when they paired a Carbon Gray printed suit with a Rhubarb waistcoat.
This article was written by Beth Bennett. Beth is a Senior Fashion Editor and Stylist for GalleryAtlantic.com. For more on the latest and hottest fashion trends see GalleryAtlantic.com.
###