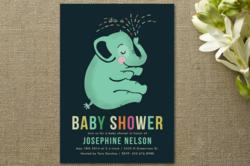 "Our community of indie designers once again raised the bar on baby shower invitations,"said Brady Wood, VP of Product Marketing at Minted.
SAN FRANCISCO, CA (PRWEB) July 31, 2012
Minted (http://www.minted.com), the global design community and e-commerce site, today launched a refreshed selection of baby shower invitations. With the new crop of designs, all sourced from its community of independent designers, Minted continues to distinguish itself from the competition as the premier source of unique stationery.
"Our community of indie designers once again raised the bar on baby shower invitations,"said Brady Wood, VP of Product Marketing at Minted. "We are thrilled to promote these talented designers and give them the opportunity to design a cherished memento for newborns' family and friends."
Like the company's existing holiday cards, wall art, and invitations products, all baby shower invitations on Minted.com are sourced through global design competitions and voted upon by the community. Minted receives thousands of art and design submissions each week.
The 62 new additions bring Minted's baby shower invitations to 247 designs in total. Many of the new designs include bright, cheerful colors and incorporate playful depictions of animals. The collection includes adoption announcements, invitations for twins and multiples, and even a few Sip & See invitations. All Minted invitations are printed on luxurious soft cotton paper and come available with backer options.
For the Books to Bottles challenge, designers were asked submit chic and modern baby shower invitations. Designers receiving some of the highest marks from the community included, Susan Asbill of Dallas, TX, Alethea and Ruth of Seattle, WA, Jennifer Wick of Harrisburg, PA, Wondercloud Design of Atlanta, GA and Griffinbell Studio of Encinitas, CA.
You can view the updated Minted baby shower collection at http://www.minted.com/baby-shower-invitations.
About Minted:
Minted is a venture-backed design community and e-commerce site, crowd-sourcing graphic designs and content from a global design community and selling those as premium printed products focused on the $10 billion stationery market and the $48 billion wall art market. Benchmark Capital, Menlo Ventures, and IDG Ventures SF are investors in Minted, along with angel investors Marissa Mayer, Jeremy Stoppelman, and others.
All the designs featured on Minted are chosen by the community. The company holds ongoing competitions, giving designers and artists the opportunity to submit their work. Those voted to the top are sold on the site.
Minted has radically transformed what consumers now expect in holiday cards, wedding invitations, save the dates, birth announcements, business cards, and other personal stationery. The company's paper and printing is of the highest quality and it leads the market with the freshest designs, newest formats and most coveted details. Minted's fresh, unique designs have been featured on The Today Show and The Early Show, and in Real Simple, Town & Country, InStyle Weddings, Food & Wine and other major national magazines.