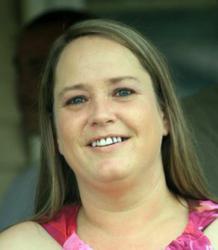 Michelle epitomizes the values of excellent customer service that are the cornerstone of this business
Spokane, WA (PRWEB) July 31, 2012
Sound Telecom, a leading nationwide provider of telephone answering, call center and unified communication services, today announced Michelle Carson as the first winner of the company's prestigious "Infinity Award" for customer service excellence.
"Michelle epitomizes the values of excellent customer service that are the cornerstone of this business," says president of Sound Telecom, Michael LaBaw, "I am extremely proud to have her on our team and to see her win this important award because the service she provides helps sets Sound Telecom apart from its competitors and is highly sought after by call center customers." The Infinity Award is given to a call center agent who is able to achieve perfect quality monitoring scores while simultaneously averaging the highest level of statistical performance over a three month period of time. Michelle achieved both, marking an important milestone for Sound Telecom because the bar is set very high and the criteria that must be met to win the reward are not easily achieved.
The Infinity Award is part of an aggressive quality performance program developed by Sound Telecom. The goal of the program is designed to monitor both call quality and operator performance. By measuring both types of quality metrics simultaneously Sound Telecom develops a balanced approach to call center performance that produces excellent service and a superior customer experience. Over half of Sound Telecom's call center agents regularly score at the highest 10% level of performance metrics. The program regularly produces high achievers because agents see immediate recognition for results. Sound Telecom's agents focus on providing professional, friendly, and courteous service because it's the right thing to do and it is deeply engrained in the corporate culture. The Infinity Award provides recognition for highest achievement possible for the vital performance standards set by the company.
Michelle has experience working in almost every department in Sound Telecom's call center which makes her extremely adept at handling Sound Telecom's unique customer base. "If I ever need to know anything about a customer," states Brian Gabriel, Sound Telecom's Chief Operations Officer, "I can call Michelle and she will have the answer."
"You can tell that Michelle genuinely cares about the people that she serves and this includes both customers and employees," notes Tasha Miller, Programming Supervisor for Sound Telecom.
About Sound Telecom
Sound Telecom is a leading provider of 24 hour Telephone Answering, Call Center and Unified Communication Services, headquartered in Seattle professionally serving thousands of customers throughout the United States and Canada with USA based agents. The twenty-five year old company has offices in Seattle and Spokane, Washington and Denver, Colorado. For more information, please visit http://www.sound-tele.com.
Contact Information
Michael L. LaBaw, President
Sound Telecom
800-577-1550