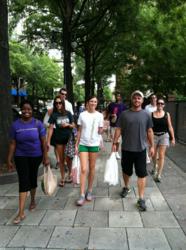 we want to give people a chance to give the homeless a little hope
Charlotte, North Carolina (PRWEB) July 28, 2012
This past Sunday, volunteers from two, local non-profit organizations hit the streets of Charlotte, NC to distribute much needed supplies to the city's homeless uptown residents. Doing My Part, founded by Mike Spencer and Josh Delaney, teamed up with volunteers from Serve Charlotte's Homeless, founded by Nichole Jaworski.
The volunteers walked through Charlotte's neighborhoods passing out bags filled with water bottles, crackers, snacks and toiletries. As of now, Spencer, Delaney and Jaworski have committed to providing this much needed service every other Sunday. When the weather begins to get cooler in the fall and winter, the organizations plan to pass out winter blankets as well.
Mike Spencer believes that there is a serious need for aid to assist those that live in Charlotte's streets. "Although it goes mostly unsaid, homeless shelters often become full and hundreds of homeless are forced to live in the streets behind dumpsters and overpasses," explains Spencer.
He hopes not only to help those in need but also to bring awareness about these issues to Charlotte's citizens and inspire them to help. "We want to not only make sure that the community's residents know about the issue, but we want to give people a chance to give the homeless a little hope also with the DMP Street Team by giving out the supplies, food and water that they need," says Spencer.
Doing My Part is a non-profit organization with the mission of "transforming the way the world gives back." Doing My Part gives anyone the chance to become a Hero through a minimal $3 automatic monthly donation. To see more information visit the website or the Facebook page.
Porsche T. Farr,
http://www.PorscheTiaPR.com
###