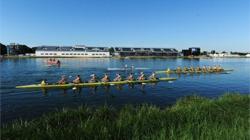 I feel that we are in very, very good shape. This is the best team we have brought to a Games
(PRWEB) July 28, 2012
Great Britain's rowers are ready to make these Olympic Games their most successful since London 1908, according to Performance Director David Tanner.
The action begins at Eton Dorney, with Britain's unprecedented 48-strong team aiming to retain their crown as the leading Olympic Rowing nation.
To achieve that, Tanner believes Britain's minimum requirement is to match the six medals - two gold, two silver and two bronze - they won at the Beijing 2008 Games.
That was enough to put Britain top of the medal table. But the ambition and the expectation within GB Rowing is for more this year, including a first-ever Olympic gold medal for a British women's crew.
In 1908, Britain won eight medals, including four golds, at the Olympic Games regatta held on the River Thames at Henley.
'I feel that we are in very, very good shape. This is the best team we have brought to a Games - a team within a team - and I am confident that we will deliver on the water,' Tanner said. 'We have all arrived healthy and we are ready to go.
'The training camps (since the Munich World Cup regatta) have gone very, very well. We went away to do a lot of work and that was done successfully.
'We have to do our job on the water.'
The regatta opens with heats for the women's Pair, with Helen Glover and Heather Stanning hoping to win gold after dominating the World Cup series.
World Double Scull champions Katherine Grainger and Anna Watkins come into the Games on the back of a 21-race unbeaten streak.
The Lightweight Men's Four - brothers Pete and Richard Chambers, Chris Bartley and Rob Williams - also boast strong medal credentials after a victory at the Munich World Cup regatta described by Tanner as 'sensational'.
Britain have won gold in the men's Four at each of the last three Olympic Games and once again coach Jurgen Grobler has made it his flagship heavyweight crew.
Andrew Triggs Hodge, Pete Reed and Tom James return as defending champions alongside world champion Alex Gregory - but the battle for gold in the Four could be the tightest of all with Australia and the United States both expected to be strong.
Away from the Brits, New Zealand have two gold medal hopefuls in action on Day One in Mahe Drysdale - who is in a Single Sculls heat with reigning champion Olaf Tufte - and the dominant men's Pair of Hamish Bond and Eric Murray.
And there will be a special moment in the women's Single Sculls when 40-year-old Ekaterina Karsten from Belarus goes in search of a sixth Olympic Games medal after recovering from a rib injury.
For further information please contact the London 2012 Press Office