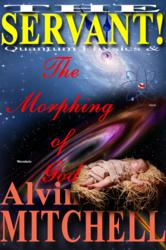 …Birth of Christ, and …modern understanding of the workings of the universe …quite establishes…the veracity of the Bible's claims of visitations…of "extra-terrestrials".
(PRWEB) July 29, 2012
Alvin Mitchell is a fervent Christian writer and Bible believing, truck-driving Bible-apologist who believes firmly in the scientific and historical bent of the Holy Bible. In his new book, The Morphing of God: Quantum Physics and The Birth of Jesus Christ, Alvin narrows his focus so as to explore meticulously the challenging issue of how God would have end-times, modern man understand His transcendence of time and distance, and His transformation from eternal Spirit to mortal man in light of an uncanny, currently flourishing knowledge of his surroundings.
In 'The Morphing of God: Quantum Physics and the Birth of Jesus Christ', Alvin Mitchell tackles the thorny issue of how an eternal, immortal Spirit Being with no inherent physical properties, could cross billions of years of darkness, requiring billions of years of travel, at not less than the speed of light (multiple times, from a domain of light, in a four thousand year span), only, in finale, to be born like a normal human, so as to die and live forever as a physical Being (having all the originally trappings of the God He was, being Spirit!). "Is that rational", he wonders, placing himself in the role of a "devil's advocate"? Is this fact, or Jewish fiction?
The original inspiration behind this work was an email carrying an inquisitor's unassuming desire: "Just tell me to more about Jesus", he said. That humble entreaty brought its own excess baggage. "This guy could really hold your feet to the fire, if he wanted", Alvin thought. How does one explain "Spirit" becoming Man? What is "Spirit"? What is God trying to say to mankind, when He speaks of Himself in the terms that He does, and, how does one convey that information to answer questions that might have been, but thankfully perhaps, were never asked, by one like this? Not only did he not know how he would answer, Alvin had no clue, at the time, where to start. Nonetheless, his passion was aflame. "What we have here, is an intellectual enigma that must be unraveled", he thought, more or less. Toward that end, he surmised that the metaphorical descriptors applied to the person of God throughout the Bible would be "key".
Ultimately, the insights that fed his curiosity and fueled his imagination, were gained from research done for the work that originally thrust him under the weight of the writer's pen, in the first place. That, perhaps, humblest of beginnings was rooted primarily in thoughts surrounding the creation account found in chapters 1 & 2 of the Book of Genesis. Thus, his chief weapon, as he attacked the challenge of this timely discussion (in a never-ending war, waged for understanding), was a basic knowledge of quantum physics. On this basis, Alvin believes firmly that he has developed a compelling thesis that quite proves the viability of the Bible's claim—there not only is a God, the God of the Bible, but, He can, and has—from the time of the Creation to the birth of Jesus Christ—interacted with mankind personally, and, He will again interact with His creation on a personal, physical basis, on this earth, albeit, on less amicable terms; probably in the not too distant future.
"The Morphing of God: Quantum Physics and the Birth of Jesus Christ" is the second in a series of urgent and relevant Bible studies, Alvin is in the process of compiling, related to the person Jesus Christ. This release of his most recent work represents an integral part of the series he calls "The Servant (Knowing Jesus Christ, Biblically)".
Alvin has distinguished himself as an enthusiastic writer, ready to tackle any topic, in honor of his God, his Savior and His word. He is a firm believer that—to be a credible, viable witnesses for Christ, in today's cultural environment—all Christians must be formally educated far beyond the religion of "me-ism" that so permeates the thinking of our local church congregations (in the name of Jesus Christ!). "You cannot live, or, stand for, what you do not know," he says. His prayer is that multitudes will be motivated by his work to heed the call, taking up the cross of Christ daily. His conviction is that seekers, who cannot and will never find the object of their affections or theological aspirations through traditional means, will be bountifully blessed by his writing.
Free excerpts from 'The Morphing of God…' and samples of other works by Alvin Mitchell can be found at http://www.1biblestudyhour4u.org
http://www.barnesandnoble.com/w/the-morphing-of-god-alvin-mitchell/1112274346?ean=2940014994309