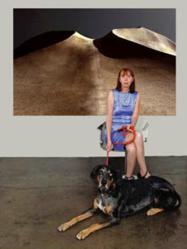 My dreams are to move artists forward and help shape their careers.
(PRWEB) July 28, 2012
The Pacific Regional Women's Caucus for Art (WCA) features Bergamot Station gallery owner, Laurie Frank, as a speaker at their September 8 "Honoring Women's Rights" conference.
"My dreams are to move artists forward and help shape their careers. (What motivates me these days is) not about me at 60 years old. It's more about looking at how things have changed and how I can help others," said Frank. "It's all completely different! The paradigm has changed; how to be a woman for everything, like how to be a filmmaker or print—newspapers are finished. Music—you don't sell albums anymore."
Her talk, "Choice Words for Real Life", reflect specifically how life has changed for women over the centuries. She asserts the status of women is no longer based on paternity proof. Today men know for certain which children are theirs and take responsibility for them. Women are no longer possessions to be guarded. Frank muses, "What has that (shift) done to women's thinking about being female, being a woman? No nice girl in any media has an abortion. The battle was lost by using the terms Pro-Life and Pro-Choice.
Today, there is no real choice – by today's (external) standards, if you are a good person, you must give birth. It's now more of a Sophie's Choice than a Pro-choice… Teenagers feel like they have no choice to have an abortion because there is no reinforcement for that choice – think Juno."
In Frank's talk, she'll postulate that an abortion option is Pro-Life because it gives the woman a choice to her take her life down the path of her own choosing. With abortion, she can choose to honor her life and the life of her family.
The Honoring Women's Rights conference is in celebration of WCA 40th anniversary at the National Steinbeck Center in Salinas, CA. The event runs for a day and a half starting September 7th at 5pm for early registration and special pre-conference events, at National Steinbeck Center in the heart of Old Town Salinas, California.
__________________________________________________
General Admission tickets on sale until August 22, through http://www.honoringwomensrights.org/conference-program. ;http://bit.ly/HerRights
http://www.nationalwca.org; Women's Caucus for Art creates community through art, education, and social activism.
http://www.steinbeck.org; National Steinbeck Center inspires people to make a positive difference in our world, 1 Main Street, Salinas, Monterey County, CA