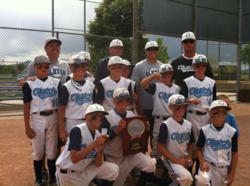 (PRWEB) July 29, 2012
Highland, UT – The Utah County based 11 and under Clutch Performance Baseball Club qualified for the USSSA Elite 32 World Series by winning the Denver Super NIT Qualifier the first weekend in June. The win earned them a berth in the World Series, to be held in Orlando, Florida, August 4th through the 11th.
After winning the RMSBB Memorial Day Tournament in May, the team traveled to Denver, Colorado to play in the USSSA Super NIT Qualifier. Clutch played and won 5 games to earn the berth in the Elite 32 World Series. According to the USSSA Power Rankings, Clutch Performance has been ranked as high 11th in the country in the 11 and under age group.
The Elite 32 World Series is one of the top tournaments in the country as each team there had to win a qualifying tournament to be eligible. Opening ceremonies kick off the event on Saturday, August 4th. Games begin that evening and consist of pool play which feeds into a double elimination format and the winners of each double elimination pool go on to play for the championship in a single elimination bracket.
Earlier this year Clutch Performance also won the Las Vegas USSSA President's Day Tournament, the RMSBB Firecracker Tournament and this past weekend, the Tournament of Champions. Clutch's record between tournaments and RMSBB league play this year is 48-4.
Team members include, Briggs Ashworth, McKay Barney, Tom Bateman, Chase Comer, Cale Ford, Travis Johnson, Taye Newman, Andrew Pintar, Chase Roberts, Kai Roberts and Carter Smith. The team is coached by Ryan Roberts, Gary Daniels, Jon Cluff, Nic Pintar & Mark Comer.
The team will be holding various fund raisers to help offset the cost of airfare and accommodations for the World Series. If you or your company would be interested in donating, please call 801-492-4845.
Clutch Performance is sponsored by Clutch Performance Snacks (http://www.clutchsnacks.com/), a fund raising company and division of Zotes.com, based out of Highland, Utah.