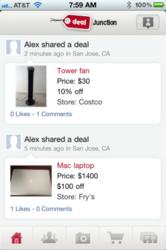 Social network for shopping deals!
(PRWEB) July 28, 2012
Deal Junction brings first of a kind social network to share shopping deals on iphone and ipod. It attempts to make shopping a fun experience by allowing users to share the deals with their network. The network is built by following other users and posting deals.
The app allows users to "explore" the deals on the home tab. If users like the deals posted by others, they can start following them to see all their deals. Users can also like or comment on a deal.
When posting a deal, all users need to do is take a picture of a product and provide how much "off" they are getting and optionally provide store and category. All major stores and category are supported.
App allows users to filter the deal by store or category. Say, user is in a Walmart, and wants to find what's on Sale - he simply filter deals by "Walmart". Similarly he can find all deals for "Electronic" or "Sports gear".
App uses Facebook authentication to login the users and allows users to share their deals with their Facebook friend. Users can easily opt-out of this sharing if they want to. App also allows users to browse the deals without logging in.
"Deal Junction" is owned by Social Junction Apps LLC. The app can be downloaded here: Download Deal Junction. The company plans to release Android app version soon. To learn more about the app, visit dealjunction.me.
Contact Email: socialjunctionapps(at)gmail(dot)com