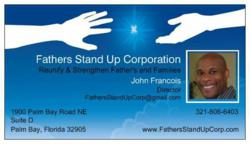 Brevard County, Melbourne, FL (PRWEB) July 28, 2012
Fathers Stand Up Corporation is donating school supplies to Centerpointe Church for their 'Back 2 School' Festival on July 28, 2012 from 1:00 to 4:00 PM in Palm Bay.
Fathers Stand Up Corporation is a not-for-profit that provides resources promoting healthy family relationships, motivating and positive proactive parenting, ending domestic violence, surviving divorce, and creating life plans to enhance family structure.
Founded by John Francois, a lifetime Brevard County resident, Fathers Stand Up supports fathers and families by bridging the gap between a healthy community and the families that make it up. Resources offered focus on fathers and parenting. Mr. Francois understands that different issues within a family home can, and will, impinge on the community.
By partnering with local businesses to offer services and resources, Fathers Stand Up is able to support fathers in the community when times are tough. This directly provides a positive affect to children and families when they need it most, helping keep the community strong.
Fathers Stand Up has a history of supporting children and families. In 2010, by partnering with Tropical Smoothie Café in Palm Bay and other businesses, 350 backpacks filled with supplies were distributed to children, lessening the financial burden on families in need. Also distributing 200 turkeys to needy homes during Thanksgiving, John Francois shows his dedication to the community's need.
This year, Fathers Stand Up is donating school supplies for a 'Back 2 School' Festival on July 28, from 1:00 to 4:00 PM at Centerpointe Church, 891 Coply Street SE, Palm Bay. Centerpointe Church will be distributing 2500 free backpacks, free haircuts, eye screenings, food, and also providing bounce houses and more.
More information is available at their website: http://www.Cpchurch.net
Fathers Stand Up will continue to partner with positive community influences, bringing resources to families in need of creating strong foundations in their own homes and outwardly influencing the surrounding community.
Look for an announcement coming soon with the venue for the very first Fathers Stand Up Family Dinner and Dance. This event is taking place on October 6, 2012. Fathers and their families will be invited to come and enjoy an evening of recognition and area business support and participation. More information is available at http://www.facebook.com/FatherSupport.