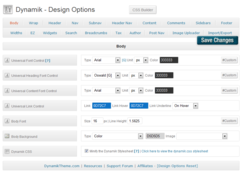 ElegantThemes Builder Plugin makes customizing posts and pages easy due to it being pure drag and drop technology.
(PRWEB) July 29, 2012
The ElegantThemes Builder Plugin was released to the public on July 25, 2012. Until that date it was only available for use on one theme by ElegantThemes.
The publisher of B2Web, who is a long-time ElegantThemes member, immediately installed the new plugin on the B2Web website for testing as part of the review process. Testing of the plugin involved constructing a 1,000 plus post that included using almost every module included in the plugin.
According to the B2Web review, the ElegantThemes Builder Plugin can be used on all WordPress themes. More to the point, it's function is to provide WordPress users the ability to create highly dynamic pages and posts by inserting one, several or many of the building modules into a page or post. An important feature is the ability to input widgets inside a page or post.
The Builder plugin by ElegantThemes uses drag and drop technology. It's a tool that helps make WordPress easier to use.
B2Web was launched in 2012 and is a website largely devoted to educating the public about WordPress, including themes, frameworks and plugins. B2Web also provides several free video courses on how to build websites with WordPress.
For more information about the B2Web's review of the ElegantThemes Builder Plugin, visit: