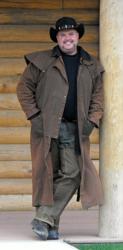 "The mental capacity of the equine controls the physical output of the athlete." - Kerry Thomas
(PRWEB) July 30, 2012
The 144th horse racing season is alive and well in Saratoga Springs, New York, whose motto is "Health, History and Horses." Kerry Thomas, creator of the Thomas Herding Technique (THT) and author of Horse Profiling:The Secret to Motivating Equine Athletes will appear August 12, 2012 from 10 a.m. to 1 p.m. at the National Museum of Racing and Hall of Fame to sell and sign books as part of the week long Hall of Fame induction festivities and celebration. Thomas recently announced he is also available to clients for pre-purchase profiles during the yearling sales as another tool in the toolbox for making informed equine purchasing decisions.
THT's unique techniques for Yearling Evaluations measure: distance propensity, trainability, class and temperament.
"The mental capacity of the equine controls the physical output of the athlete," Thomas explains, as detailed in the book Horse Profiling, and has determined the horse's mind is the most undervalued and least understood aspect of judging sale yearlings. While a bloodstock agent can judge the horse's physical conformation, Thomas uses THT as a tool to evaluate the horse's mind.
On August 12, from 10 am to 1 pm, Thomas, also known as "The Herd Whisperer" will sign books and answer questions at a special event featuring Horse Profiling at the National Museum of Racing and Hall of Fame, located across from the historic Saratoga Race Course. Copies of Horse Profiling will be available for purchase at the event.
Prior to the event, Kerry Thomas will be featured in America's Best Racing Thoroughbred Notebook, presented by the National Thoroughbred Racing Association (NTRA). America's Best Racing is a multi-media new fan development and awareness-building platform, initiated by The Jockey Club, designed to increase the profile and visibility of America's best Thoroughbred racing events, with a primary focus on the sport's lifestyle and competition.
Saratoga Race Course, named one of the world's greatest sporting venues by Sports Illustrated, is a 350-acre racetrack in Saratoga Springs, N.Y. The 2012 meeting is 40 days long from Friday, July 20 to Labor Day, Monday, Sept. 3. Saratoga is the home of the 143rd Running of the Travers Stakes on Aug. 25, 2012.
The Hall of Fame was created in 1955 to recognize and honor deserving horses, jockeys, and trainers whose accomplishments have withstood the test of time. The 2012 Induction Ceremony will be held on Friday, August 10 at 10:30 a.m. at the Fasig-Tipton Sales Pavilion.
Kerry M. Thomas is recognized around the world as a pioneering researcher and service provider in the field of Equine Athletic Psychology. Starting his independent research of wild horse herds to initially learn more about their social structures for the purpose of developing therapy horses for children, Kerry made his first trips to Wyoming & Montana in 1989. A television show based upon his groundbreaking work is currently being developed.