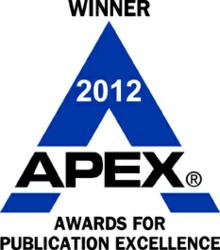 "We are proud to be among this year's APEX 'Award of Excellence' winners," said Migliore. "We have a strong team, and everybody is equally deserving of the recognition the APEX judges have bestowed upon us."
Birmimingham, AL (PRWEB) July 30, 2012
Flow Control magazine, a leading trade journal for industrial fluid handling professionals, has been honored for the fifth consecutive year by the Awards for Publication Excellence.
Flow Control was one of nine wining entries recognized in the "Editorial & Advocacy Writing" category for its January 2011 "Viewpoint" column about the shale gas boom, written by Flow Control Executive Director of Content Matt Migliore. More than 3,400 entries were submitted for the 2012 APEX awards, and this is the second APEX Editorial & Advocacy Writing award Flow Control has received in the last five years.
"We are proud to be among this year's APEX 'Award of Excellence' winners," said Migliore. "We have a strong team, and everybody is equally deserving of the recognition the APEX judges have bestowed upon us."
In Flow Control's winning entry, "The Truth About Shale Gas,", Migliore calls for evenhandedness and truth-telling in the ongoing debate over shale gas exploration and drilling in the United States. He questions if industry, environmentalists, and politicians can come to terms in the shale gas discussion in a way that enables the natural resource to be tapped in both an economical and environmentally responsible way. The editorial resonated with readers and generated thoughtful and inspired feedback from a range of perspectives, which offered valuable insight on this important topic.
In addition to this year's award, Flow Control has won five other APEX "Awards of Excellence" since 2006, including 2011 "Magazine Series" for a six-part feature on pumping systems optimization; 2010 "Technical Writing" for its July 2009 "Spilled Ink" cover story; 2009 "Best Cover" for its March 2009 "In Boom" cover concept; 2008 "Editorial & Advocacy Writing" for its "How Clean Can Clean Coal Be?" editorial; and 2006 "Best Cover" for its "Ant Man" cover concept.
To read Flow Control's winning "The Truth About Shale Gas" editorial, click here.
To read several reader comments submitted in response to this editorial, click here.
About Flow Control Magazine
Flow Control magazine is the leading journal for fluid handling systems design, maintenance and operation professionals. It focuses exclusively on technologies and strategies for effectively measuring, controlling and containing liquids, gases and slurries. It aims to serve any industry where fluid handling is a requirement.
Flow Control magazine, Grand View Media Group, 200 Croft St., Suite 1, Birmingham, AL 35242, FlowControl(at)GrandViewMedia(dot)com, FlowControlNetwork.com