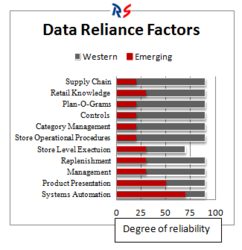 "Maximizing Big Data starts with data reliability"
Moscow, Russia (PRWEB) July 31, 2012
Retail Solutions, http://www.retailsol.com a leading European retail advisory and consulting provider, long operating in the Emerging Markets for almost twenty years takes on another challenge. After having brought discounting to Central Europe which began the retail development explosion on the continent beginning with Kmart Europe and transforming into Tesco Europe, Retail Solutions excels its efforts to tackle accuracy of data.
Managing Director of Retail Solutions Art Vartanian commented: "A major challenge of retailing in Emerging Markets relates to maximizing the functionality of sophisticated systems notwithstanding the lack of retail knowledge from an operational and control perspective. Data systems in these markets are a Red Herring which generally cannot be relied upon" Retail Solutions Operations Director Joseph Suran contends that decisions are being made with the use of bad information, commonly known in the IT world as Garbage-in Garbage-out.
Retail Solutions primary service product "RS Diagnostic" is an analytical review focused on assessing and improving retail operations for increased data reliance and improved profitability.
"We tailor for the client and assess key areas such as Strategy, Inventory, IS, HR, Operations, Purchase to Payment, Merchandising, Category Management, Financial Reporting and Supply Chain" added Mr.Vartanian .
This tool is critical to improving the integrity and reliability of data which varies significantly by country and retailer. Our diagnostic approach to a retail client improves the overall value added to retailers and those who rely on such data.
In discussing the markets Patrick Hopper, Partner of Retail Solutions stated "It's quite simple to understand the differences in the markets provided you know the starting point and development background of these retailers."
Western markets developed from a non-scanning environment with heavy reliance on operational controls and other core retail concepts to manage the business. In preparing for Y2K, many leading retailers used this as an opportunity to upgrade systems increasing the accuracy and reliance on scanning data.
Emerging markets experienced significant growth in the late 90's and benefited from businesses being established with state of the art systems. Early market entrants into these markets also operated in a non scanning environment, however, the fundamental retail operational controls were not in place.
We designed our product "RS Diagnostic" to provide an independent check-up or assessment of your business and can tailor this product to assess the quality of Big Data that Retailers and CPG groups rely upon today leading towards improved decision making.
The team at Retail Solutions added, "As retailers we understand the importance of designing customer friendly store layouts, product presentation and visual merchandising. Although these areas are a high priority for western retailers, regional players in emerging markets are not fully reaping the benefits of these very basic retail concepts to drive analytics in big data."