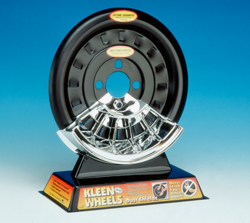 We are very excited to have the new website up and running, enabling our customers to quickly find exactly what they were looking for in our line of products...
Dania Beach, FL (PRWEB) July 30, 2012
Kleen Wheels Corporation, the automotive aftermarket industry's leading supplier of auto brake dust shields, recently launched its new website to enhance their web presence so customers can easily find the company and its products online. Since its founding in 1977, Kleen Wheels break dust shields have been keeping car owner's wheels clean and shiny like new, free from annoying brake dust. The website features a comprehensive product catalog that provides details about the company's products such as fitments, applications, technical data and pricing. The new website also promotes other Kleen Wheels products including Kleen Brite headlight lens restorer, WheelMates for easy wheel removal, PermaCap self-sealing fuel filler cap, Truk-Chek hot wheel indicator, and Quik-Chek tire pressure readout tire valve.
The new website was designed with the user in mind, enabling visitors to easily find and purchase Kleen Wheels products. Kleen Wheels dust shields are featured on the new site and customers can easily find the wheel specific custom engineered dust shield that they need for the year and make of their car. The dust shields are made in the USA and were developed to help car and truck owners keep their wheels free from brake dust and grime, eliminating the tedious task of cleaning wheels. Dust shields fit into the inside of the wheel just like an inside hubcap - preventing brake dust from accumulating on the outside of the wheel. If brake dust is not removed it can corrode and damage the finish on expensive wheels. Kleen Wheels brake dust shields are available all popular current models of cars and light trucks, foreign and domestic, and for some models dating back to the 1980's.
In addition to the brake dust shield, the new website also features the company's other products for car care. Kleen Brite is an easy to use headlight lens restoration product that removes the cloudy haze that can happen over time from exposure to the sun's damaging ultraviolet rays. The Quik-Chek product provides a unique tire pressure monitoring valve cap system that indicates a car's proper tire inflation, which saves money by reducing tire wear and improving gas mileage. PermaCap is a permanent replacement for the car's gas cap that allows drivers to fill their tank without removing the fuel tank cap. The company's Wheel Mates product prevents wheels from seizing to the wheel hubs due to rust, corrosion and electrolysis, and makes changing a tire quick and easy. They also have a Wheel Mates Marine product for use on the wheels of boat trailers. The newest product featured by Kleen Wheels is Truk Check which is an adhesive heat sensor that is used on bus, RV and truck wheel hubs, that turns from white to red when the wheel end environment reaches a dangerous overheat temperature. The color change provides advance notice for truck drivers to be alerted to overheating conditions before there is a costly highway breakdown, tire failure, or a fire is started.
Kleen Wheels president, David Weinberg, commented on the new website, "Our new website provides our customers with the ability to easily shop online for our products and quickly find just what they are looking for in our line of automotive products. We are very excited to have the new website up and running, enabling our customers to quickly find exactly what they were looking for in our line of products…"
Kleen Wheels is a leading supplier of automotive products. The company is dedicated to providing highest quality products to car and truck owners and operators. Kleen Wheels is located at 3406 SW 26th Terrace, Suite C-10, Dania Beach, FL 33312. The company can be reached by email through its website and toll free at 1- 800-327-6548. Website and online web marketing is provided by an Atlanta SEO company, Interactive Search Marketing.