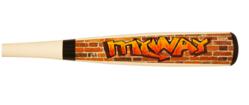 we designed and developed this high quality aluminum baseball bat, to cater to youth league players who need aluminum bats. We're really proud to provide youth league players with our USSSA approved bat
West Palm Beach, FL (PRWEB) July 30, 2012
Carolina Clubs Inc., a leading manufacturer of wooden baseball bats, has introduced a new aluminum baseball bat to their online catalog this week. The trademarked MyWay aluminum bat caters to youth league players and comes in four sizes and one weight, minus nine. The Company has been providing professional and amateur athletes with the highest quality maple and ash wood baseball bats for over 20 years. The metal bat expands the Carolina clubs catalog to accommodate more players who need an aluminum bat for their league.
The Carolina Clubs staff has a combined 85 years' experience in baseball bat manufacturing and the family owned business is highly experienced in the business of baseball. Their hit-producing maple and ash baseball bats are best sellers for players that want the same professional quality wood baseball bats that have been used by MLB players. However, Carolina Clubs now sees the need to provide a product for younger players in leagues that require that they use metal bats. To accommodate these youth league players Carolina Clubs has developed the new USSSA approved aluminum baseball bat called the MyWay bat.
The MyWay bat is made from X830 aluminum alloy, which is known for being high quality, durabable, and its "pop". It bears a slightly larger knob that is becoming more popular with players. This USSSA approved baseball bat is not just for high end players, but for all players from beginners up. The Carolina Clubs' MyWay baseball bat was designed for youth travel players from the ages of 8-13. However, Carolina Clubs offers youth training bats, as well as professional quality wood bats for players outside those guidelines. All of Carolina Clubs' wood baseball bats, and now the MyWay aluminum bat are available at the Carolina Clubs' online shop.
Kevin Lane, President of Carolina Clubs commented about the company's new MyWay baseball bat. "Many youth players are required to play with an aluminum baseball bat. We've always offered various sizes and models of wooden youth bats, but realized we were missing the aluminum bat market. That's why we designed and developed this high quality aluminum baseball bat, to cater to youth league players who need aluminum bats. We're really proud to provide youth league players with our USSSA approved bat, and we will continue grow our product line to provide youth league player the best in baseball bats."
Carolina Clubs offers high quality maple and ash wooden baseball bats for all levels of play, from youth training bats to custom adult baseball bats. They now offer their newest MyWay aluminum baseball bats for youth travel players from ages 8-13. The new USSSA MyWay baseball bat is available, along with their entire line of custom wooden baseball bats online at the Carolina Clubs' online shop. To find out more about Carolina Clubs' products contact them by phone at (1-888-466-2675) or by email. Web marketing and web development is provided by Atlanta SEO Company, Interactive Search Marketing.