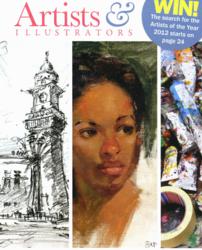 Portrait artists everywhere constantly work to understand and improve painting skin tones...I was delighted to be asked to share what tips I could with painters across the pond.
Phoenix, AZ (PRWEB) July 29, 2012
Inspired by Chris Saper's recently released book,"Painting Classic Portraits in Oils: Keys to Mastering Diverse Skin Tones", editors at Artists & Illustrators, the UK's best-selling magazine for artists and art lovers, approached Saper to write an article about painting skin tones.
The article includes never-before published examples of a wide range of skin tones - from a very fair natural blonde to a young black woman. "All human skin tones have more similarities than differences in color," says Saper. "It's all about taking the time to see your subject, and to mix color based on observations, not assumptions."
Instructor Chris Saper has painted commission portraits for more than 22 years, and has taught artists of all levels her craft since 2004. She has authored two instructional books and 4 DVDs, all of which focus on understanding the nuances of light and skin color.