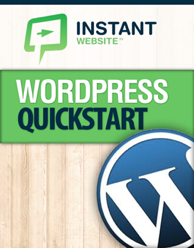 WordPress online and printed tutorial available made free in limited quantities as part of marketing launch
Bellevue, WA (PRWEB) July 31, 2012
Struck by how absurdly different competing bids were for building a simple website, and how needlessly complex documentation is for what he knew was a straightforward task, former Microsoft Program Manager Tom Campbell did what any ex-product guy would do in that situation: he built his own how to learn WordPress video training course (called Instant Website.tv) to scratch that itch, then made a its most important modules freely available on the Web.
In minutes, innovative video course shows creation of entire website
The result is three video training modules and a printed action guide (collectively called the Instant Website.tv Jolt Course) that take any user from zero to a working WordPress 3.4 website in just minutes. It covers
● How and where to get a domain name with the lowest cost and easiest administration
● Finding a web host that offers the best combination of service, speed, reliability, and price
● How to install WordPress in just seconds
● How to "reskin" the site in moments using work supplied by some of the most gifted Web artists in the world-at no cost.
Assumes frustrated audiences "hate using videos", including his own Jolt Course WordPress training classes
"Look, I assume that the last thing you want to be doing is watching some lame video course, or even messing around with with a website. A lot of the time, when I use a video class online, I listen to the instructor hem and haw and watch mistakes happen in real time, then get corrected, and I wonder if they value their audience's time in the least. My bet is that you would much rather be, oh, I don't know, running your business. So I guarantee this is the fastest way to learn how to get a beautiful, easy to maintain website under your own complete control."
The techniques used were:
● Carefully script each video and ruthlessly edit any "uhs", "ahs", and mistakes
● Display each step of the entire process so even beginners can build a complete site from scratch
● Zoom into each detail that might otherwise be hard to read
● Add onscreen commentary to summarize important points and direct the user's action whenever there might be a question about what comes next
● While taking a concrete, action-by-action approach, the course also summarizes important concepts so the user not only knows what to do, but why it's being done
● Create a complementary PDF action guide that can be printed. The action guide is not a simple transcript of the video. It's an independently written work that does not require the videos to function and has all steps fully illustrated, yet synchronizes seamlessly with the videos
● Test the course dozens of times, installing on both fresh and existing domains, and doing extensive usability studies on what portions of the course worked-and which had to be dispatched with the Delete key, no matter how long they took to shoot and write up in the first place
The WordPress 5 Minute Getting Started Guide fine for web experts, but "Sent me into near depression"
The WordPress.org site has a reputed 5 minute getting started guide that requires extensive knowledge of such webmaster techniques as creating SQL databases and usernames, setting permissions on files using the Unix CHMOD command, and using an FTP program. Campbell knew that the state of the art could be much advanced. Using widely available preinstalled server software such as CPanel, for example, drastically cuts the time and technical knowledge required to get a robust, fully functional WordPress installation in a very short time.
"The WordPress.org getting started guide is probably great for MIT grads, but I'm a high school dropout," Campbell says. "I wanted something my preteen daughter could use. Reading the WordPress 5 minute guide spun me into near depression," admits Campbell. "It just didn't seem like it was a good match for the layperson."
WordPress online tutorial available made free in limited quantities as part of marketing launch
Releasing a standalone "How to start a website" class free on YouTube is a calculated risk. After all, it is possible that some users might be so satisfied with their results that they'll choose not to purchase the full 16-module InstantWebsite.tv course. "Yep, that's very possible. I was torn about releasing the Jolt Course with the first 3, most important videos and the printable Action Guide. We could very well roll that idea back once we make a name for ourselves," Campbell admits.
"On other hand people don't know us in the world of video training classes. It's a pretty good way make a name for ourselves, and because the free Jolt Course is so good, we think it'll actually have a pretty high conversion rate." The free WordPress Jolt Course online training class from EasyOnMe is at http://www.instantwebsite.tv/free
About EasyOnMe, Inc.
EasyOnMe, Inc. is dedicated to making your smarter and richer, faster. They are unreasonably excited about their state-of-the-art master class on how to start a Website; their free WordPress tutorial is available in both printed and video form at http://www.instantwebsite.tv/free
# # #