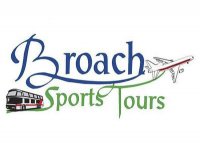 The benefits of going as a group are numerous.
Charlotte, N.C. (PRWEB) July 30, 2012
The 2012 college football season is just around the corner, and that means travel, tickets and tailgating with Broach Sports Tours.
Tom Broach, the president of the Charlotte-based company, said that Broach Sports Tours has expanded its group travel department to include college football getaways for local alumni chapters, church groups and just plain die-hard fans.
Broach Sports Tours has new state-of-the-art Broach Coach motorcoaches to transport groups to and from their favorite campuses and stadiums, with the ability to cater tailgate parties upon arrival. Broach also has an extensive supply of tickets and can tailor travel packages, including hotel accommodations when necessary, to any size group.
Broach said that the opening weekend of the college football season provides a perfect example of the kind of packages that are available.
In Atlanta, for instance, the Chick-fil-A Kickoff Classic has been expanded to a weekend doubleheader this year. N.C. State will play Tennessee at the Georgia Dome on Friday, Aug. 31, then Clemson will play Auburn at the Georgia Dome on Saturday, Sept. 1.
"Those are two great games right off the bat," Broach said. "They all involve schools within a reasonable drive to Atlanta, but maybe it's more practical to get a group together than to try to drive separately. The benefits of going as a group are numerous.
"We are offering travel packages from Knoxville to Atlanta for Tennessee fans, from Raleigh to Atlanta for State fans, from Clemson to Atlanta for Clemson fans, and from Auburn to Atlanta for Auburn fans. And we can also tailor trips for State or Clemson fans living in Charlotte, for instance."
Broach noted that local alumni chapters abound throughout the South, and those alumni associations are perfect for group travel.
"Take Charlotte, for example," Broach said. "People might not realize this but there are more than 2,000 Ohio State alumni living in the Charlotte area, and they are die-hard fans. So why not take a Broach Coach to Columbus for a Buckeye game? Same thing with East Carolina. There is a huge delegation of ECU alums in Charlotte. The Broach Coaches are perfect for a trip to Greenville. The possibilities are endless."
Of course, Broach Sports Tours also offers Carolina Panthers travel packages and has an extensive supply of tickets to NFL games as well.
Broach Sports Tours, a leader in the sports and group travel industry since 1992, also specializes in Major League Baseball tours, tennis tours and golf tours.
For more information, contact Melanie Hicks at 1-800-849-6345 or visit http://www.broachsportstours.com.