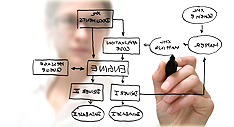 We like to help out and provide as much information as possible to people about how to ensure their network and equipment are kept safe and well maintained.
Hollywood, FL (PRWEB) July 30, 2012
An email that contains spam is not a laughing matter when it arrives in your inbox, especially if you are already using a spam filter. In many cases, it may simply be someone trying to sell you a product that you do not want (like the ever common male enhancement product or some kind of work at home scam). Some of those are completely harmless - just annoying. In other cases however, the spam emails can actually be harmful to your computer because it contains a virus, or worse - it not only harms your computer but steals your personal information and makes you a target for identity theft.
Every year, not just in people's homes but also at many places of business, people are getting tricked with spam emails. In many cases, this can cause a person - or a business owner - to have to pay a high cost to clean and repair their computers. Connections for Business wants to help people avoid this problem altogether. By filling out a simple form online that takes about one minute to submit, users can gain instant access to download this valuable free ebook that will teach them how to block those harmful messages. In the case of spam, a little prevention goes a long way in keeping your information and your computer safe.
Connections for Business aims to be the "go to" resource for all things IT. Jon Garber from Connections says of the newly released ebook, "Not everything we do is to turn a profit. We like to help out and provide as much information as possible to people about how to ensure their network and equipment are kept safe and well maintained. This isn't the first free ebook we've given away - and it certainly won't be the last. We encourage people to download the ebook and really use the information we've provided for free to block malicious emails and keep their information from falling into the wrong hands."
Connections For Business is the a highly sought after and well known IT firm in South Florida, in business since the mid 1970's, which provides full service, managed IT solutions for business owners with small to medium sized companies. Their list of services include ConnectCare, ConnectIT, and ConnectDev. For more information on these services and how they can be beneficial to your organization, call 954-920-9604 or visit http://www.connections.com