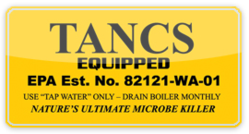 Many traditional disinfectants used in schools are highly toxic and contain potentially cancer-causing chemicals.
Lake Forest, Illinois (PRWEB) July 29, 2012
1-800-GO-VAPOR.com, a leading nationwide marketer of vapor steam cleaners, announced today that it intends to actively market the Ladybug Tekno 2350 steam cleaner to schools switching from toxic chemical cleaners to natural cleaning products. As states struggle with budget woes, the Tekno saves schools money by cutting cleaning time by 50% while reducing the need for sponges, mops, buckets, paper towels and expensive chemicals.
"The harsh smell of chemical cleaners strikes like a breaking wave when you walk into a recently-cleaned school classroom or bathroom," says V.K. Dunlop, vice president, 1-800-GO-VAPOR.com. "Even if you don't have allergies, the harsh odor can hurt your eyes, dry out your nose and damage your lungs. The smell can linger for hours, even days when windows are closed. For children who are sensitive, the smell can affect thinking and behavior—even cause cancer."
Using ordinary tap water, the Ladybug Tekno 2350 with Ladybug's proprietary patented Thermo Accelerated Nano Crystal Sanitation technology—called TANCS®—is scientifically proven to produce better results than traditional disinfectants, qualifying the Tekno as a disinfection device for the U.S. Environmental Protection Agency (EPA Est. No. 82121-WA-01) and making it more suitable than traditional hard-surface disinfectants for schools.
"Many traditional disinfectants used in schools are highly toxic and contain potentially cancer-causing chemicals," says Dunlop. "Children are at greater risk than teachers because they play on classroom floors, sprawl on desk and flat surfaces, and put everything into their mouth."
The simplified water-only protocol of the Tekno 2350 cleans, disinfects and deodorizes almost any surface—without chemicals. It is especially useful in maintaining school bathrooms, which some parents tell their children to avoid because they consider them a health threat.
"Scientific studies have found that biofilms can be up to 1000 times more resistant to biocide inactivation than are suspended microbes," explains Chuanwu Xi, Assistant Professor in the Department of Environmental Health at the University of Michigan. "It is extremely difficult to get rid of biofilms and kill them. The efficacy of the steam vapor system is important because even strong chemical disinfectants such as bleach when allowed 20 minutes of dwell time did not achieve the same degree of kill that the TANCS®-equipped unit accomplished in three seconds."
The Ladybug Tekno 2350 steam cleaner comes with a wide range of accessories. A utility cart for ultimate portability and tool storage is optional. Because TANCS® ships standard with the Tekno, the Tekno 2350 steam cleaner is scientifically proven to destroy the MRSA infection, which is sweeping the nation among school aged-children and in particular among athletes.
"MRSA is a germ that commonly used antibiotics won't kill," says Dunlop. "But the Tekno will."
According to Benjamin Tanner, president of Antimicrobial Test Laboratories, "The TANCS® System has shown extraordinary results in laboratory tests. A 99.9999% reduction of MRSA and VRE on surfaces within 5 seconds is a level of performance that chemical disinfectants may never achieve."
Located in Lake Forest, Illinois, 1-800-GO-VAPOR.com is moving fast to educate consumers and businesses that finally, there's a feasible, environmentally friendly alternative to chemicals. The company markets Ladybug, Reliable and Vapamore steam cleaners worldwide while maintaining an unblemished A+ rating with the Better Business. For more information, call 1-800-468-2767. 1-800-GO-VAPOR.com is a proud member of the Safer Chemicals, Healthy Families coalition, a nationwide effort to protect families from toxic chemicals. To stay safe and avoid toxic chemicals, keep abreast of the latest news with 1-800-GO-VAPOR.com's Twitter account, @1800GOVAPOR.