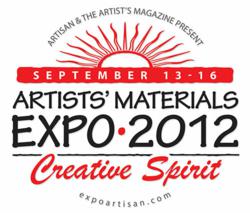 Santa Fe, New Mexico (PRWEB) July 28, 2012
The world's largest artists' material and instructional event is taking shape in Santa Fe, New Mexico this September 13-16 at Buffalo Thunder Resort. Artist's Materials Expo 2012: 'Creative Spirit' will bring artists and manufacturers to Santa Fe from around the state, country and the world. The event is on the SantaFe.com event calendar and the Buffalo Thunder Resort and Casino is a featured event as well.
All are welcome and admission to the Expo Vendor floor is FREE. This combination event will have 72 vendors selling world class art supplies at discount prices as well as ongoing product and technique demonstrations presented on the Expo stage.
A variety of 99 workshops taught by 66 regional and national artists, will provide attendees with great opportunities to take workshops and be creatively inspired for a full ($140)or half day fee($75). Workshops are scheduled morning (9 a.m.-12 p.m., afternoon (1-4 p.m.) and evening (5-8 p.m.). This year the show is teaming up with Native American Artists from the Pueblo of Pojoaque to expand workshop offerings with new perspectives on artistic mastery. Registration in advance is recommended.
This is the fifth Artist Materials Expo that New Mexico Business Artisan has produced and the first co-sponsored by The Artist Magazine. Expos are popular community events where artists and creatives come out of their studios and meet and greet each other in the joyful surroundings of possibility, inspiration, choice and fun. The depth of the creative community is reflected in the variety and depth of the colors, art gear and supplies. The show presents an opportunity for attendees to jump in try using a new medium. Attendees are encouraged to seek creative bliss at the Artist's Materials Expo 2012: 'Creative Spirit'.
Purchase Tickets Online
Admission to the Vendor Floor: Free
All-day Workshop: $140+tax
Half-day Workshop: $75+tax
About the Artists' Materials Expo 2012: 'Creative Spirit':
The Fifth Biennial Artists' Materials Expo 2012: Creative Spirit is an assembly of artists' materials manufacturers, artists, art professionals, and the creative public. Artisan has sponsored and held these gatherings in Santa Fe since 2000. We've got 72 booths, 99 workshops, and ongoing Free Demos. All the Workshops & Instructors are on the site now, and open for registration.
About SantaFe.com:
SantaFe.com provides locals and visitors to Santa Fe alike the most current interactive platform for events, music, arts, business, dining and lifestyle. SantaFe.com is a division of Hutton Broadcasting, located at 2502 C. Camino Entrada, Santa Fe, NM 87507
Contact Information:
Scott Hutton
SantaFe.com / Hutton Broadcasting
http://www.santafe.com
(505) 471-1067 (Media inquiries only, please)